The Secret to Achieving Work-Life Balance, According to the Founder of Deskpass
We
independently
select these products—if you buy from one of our links, we may earn a commission. All prices were accurate at the time of publishing.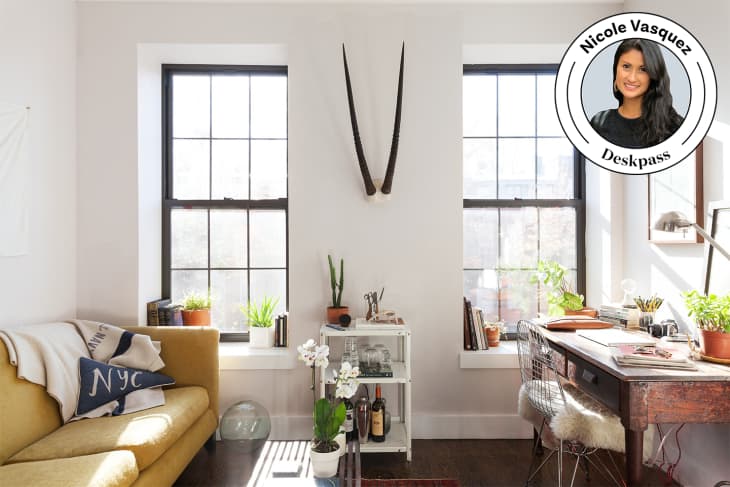 Happy Place is a brand-new editorial series dedicated to helping you live your happiest, healthiest life at home. Every week for 4 months, we're sharing quick, doable, and not-at-all-preachy tips that wellness pros, home decor experts, and Apartment Therapy editors actually use (really!). Sign up now to get 16 weeks of actionable advice in your inbox.
Happy Place is created independently by our editorial team and generously underwritten by Yogi® Tea.
When it comes to work, especially when work for so many people still means working from home, finding balance can be a challenge. Who among us hasn't fallen into working too many hours, going nonstop until completely burned out? But doing so is neither healthy nor sustainable, according to Deskpass founder Nicole Vasquez.
"Trust me, I've been through that hustle and grind, no-sleep-and-no-personal-life-stage of entrepreneurship," she says. These days, she still puts in more than 40 hours a week, but it's on her terms, with plenty of time for socializing and self-care.
Read on (and listen in) to find out how Nicole practices moderation — and how you can, too.
No time to read? Listen to highlights from our conversation with Nicole instead.
Create a Schedule That Works for You
One benefit of working from home? You have more agency and flexibility when it comes to creating a schedule that works for your life. "Remote work allows me to plan my workday and optimize it based on what works best for me — not the other way around," Nicole says.
For her, this often means front-loading her week. "Earlier in the week, I work long days, sometimes 10-to-12-hour days, because that's when I can have the most impact in terms of moving projects forward and responding to time-sensitive issues, " she says. "Later in the week when the demand on my response time lessens, I can ease up, and by Thursday or Friday work shorter days because I have longer bouts of uninterrupted time where I can power through and be really productive."
It also means being mindful of when she schedules meetings — and when she doesn't. "I don't schedule any calls (unless it's internal) until after 11 a.m., and try to avoid taking any calls on Mondays when my team needs me the most," Nicole says. "This allows me to be the most efficient with my time and interactions with other people."
Of course, you're not always going to have complete control over your schedule. In those cases, like when Nicole is on the road, away from her weekday vegetable bowls and normal routine, she's proactive about finding healthy countermeasures.
"That may be stopping at a local grocery store to stock up on healthy snacks or side dishes that I can bring with me so that I don't have to eat the catering, or walking home to my hotel instead so I can get some exercise in. If I do these things I can stay focused on my work and not get agitated."
Nicole also suggests jumping jacks or lunges for a quick energy boost — "I've done this many times in bathrooms or empty meeting rooms" — or a quick two minutes of mindful breathing.
Prioritize Social Time and Quiet Time
Outside of work, Nicole's schedule also includes a balance of social time and quiet time. "Monday to Thursday evenings and Saturday mornings are for self-care and productivity." The rest of the time is for indulging in friends, food, and weekend fun.
This schedule applies even when Nicole and her husband have visitors. "Our visitors are informed that during the week my husband and I will be working and cooking at home so they can do whatever they'd like," she says. "On weekends, we'll of course be out and about, but setting those expectations that we are in work mode is important because we're not their tour guides or concierge."
Go (or at Least Look) Outside
"I'm a thinker, and whatever is on my mind, I feel like I need to go through the mental exercises to 'work it out.' So I'll go for a long walk with no phone / no podcasts, and just walk and think. Sometimes it only takes 30 minutes to resolve the  issue in my head, and other times I can end up walking for three or four hours before I feel it's been resolved."
Another calming trick for Nicole when she can't go outside? Looking at the ocean. "When I sit on my patio and look at the ocean it reminds me of the endless possibilities in life, and also what a small part we are in the universe. It's humbling and makes any 'me-centric' issue I'm focusing on feel less like such a huge deal. Everyone on this earth has things they're worried about; the ocean reminds me that I'm just one very small part of it all."
Ready to find your happy place? Sign up for the newsletter!