8 NYC Residents Describe the Worst Apartments They've Ever Rented
We
independently
select these products—if you buy from one of our links, we may earn a commission. All prices were accurate at the time of publishing.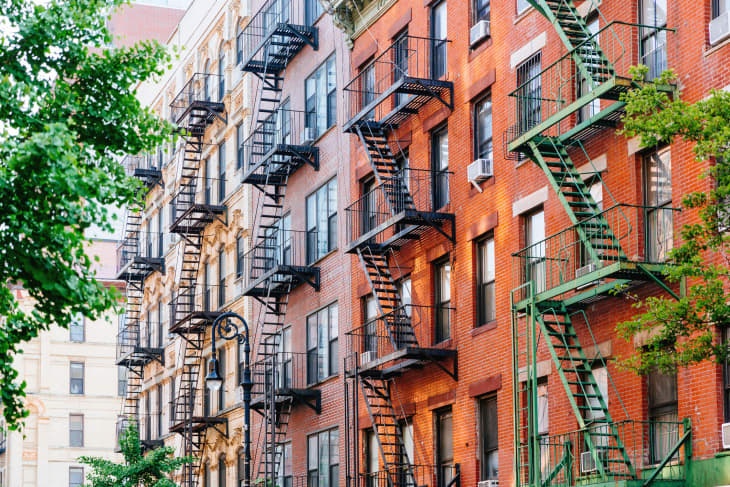 When I first moved to New York City in the summer of 2018, I'd heard some horror stories from friends in preparation for my new digs. Some apartments had much smaller square footage compared to other cities; walls could be very, very thin and neighbors exceptionally loud; and mice and roaches were more common roommates than you'd expect.
Basically, the "Apartment Hunters" episode in season 1 of "Broad City" wasn't really that far off in terms of what you could be dealing with in the New York rental market (though I would happily have Amy Sedaris as my broker).
A lot of those warnings fortunately never came to fruition in my experience. However, the same is not true for many NYC renters past and present, who shared their not-so-great experiences with Apartment Therapy.
From just looking inside my front door, the primary issue with my fourth-floor walk-up in Alphabet City was that it was literally lopsided—but that was just the start. Every time my neighbor would shower, there was grime that would fill up my bathtub, and my water would leak into my downstairs neighbor's apartment. I remember calling a plumber once and when I gave him the building address, he said, "I was praying to God you wouldn't say this address." —LL
Two roommates and I shared an apartment with a stove that would burn anything in the oven if you left it alone for more than five minutes. I don't know why, but one roommate put something in and left it alone for ten to fifteen minutes. She opened the oven and started SCREAMING. Her food and the inside of the oven was on fire. Luckily, I remembered that we had a fire extinguisher and I handed it off to my roommate who then extinguished the oven fire. We called 911 and the firefighters said we'd put out the fire before anything was damaged. The super didn't come take a look at it for three whole days! —Brittany Morrissey
I have lived in a swarm of bad apartments, but my Upper East Side one takes the cake. I lived above a very active piano bar for five years, where my bed was directly on the floor above where the piano was. They would play bad Adele, Journey, and Muse covers from 6 p.m. to 3 a.m. almost every night… so loud that I could feel it through my mattress. I do not know how I made it out with my sanity still (relatively) intact—probably because I was only paying $800 a month for nearly five years. Oh, the things I did for Manhattan real estate. —Sarah Sixt
I lived in Astoria a while back, in, actually, a very nice apartment, but the landlady lived downstairs. She was an elderly Greek woman who was kind of nutty, but seemed harmless until one day I saw her going through our garbage and taking out items of interest. This was bad enough, but it also included the bathroom garbage which contained my discarded tampons. The idea of her sorting through them—we started looking for a new place the next day! —J. Kane
I lived in the West Village in an old walk-up from 2000 to 2004, with rent starting at $800. As soon as I moved in, it became apparent that it was a one-bedroom converted to three, with lots of mismatched rooms and weird layouts.
One of the major issues was that the heat would go out in the winter and I'd end up having to sleep in my winter coat. The stove broke, requiring me to call a repair guy; he told me he had never seen one so old, and he wasn't sure if it was even safe to fix. My friends ended up calling the place "the shack" because it felt like it would collapse at any moment. —Jodi Rosoff
I lived in a dump with a slumlord for 16 months in Brooklyn about six years ago. The real estate company was so awful from the start that I should have known, but I was honestly desperate for a place. They gave me the run around until the last possible moment, two days before I'd need to move, so ultimately I could not argue anything on the lease.
The public areas of the building were essentially a construction zone that never got fixed for those 16 months (uneven stairs, bare wood, nails coming out of walls, open ceilings). The last month or two of the lease, the ceiling underneath one set of stairs was fully open and essentially collapsing, with no response from the leasing company. I'm honestly shocked no one ever got hurt! —Erin McDermott
I lived on the first floor of an apartment in Greenpoint. We were robbed and the landlord refused to get bars for the windows because he said they were ugly. We were robbed AGAIN and when we demanded bars for the windows he came over and nailed all of our windows shut. —Mystri Clugston
A room with no view—and lots of flies
I moved to NYC without seeing the apartment I was moving into (a friend needed a roommate). The apartment was on 58th Street near Columbus Circle, and it was tiny! My "bedroom" didn't have a window and my queen-sized bed touched both walls, so you had to crawl over it to get to the closet.
The building also had an issue with fly infestations every time the season shifted and temperatures changed. I've never seen anything like it. I walked into my apartment after work one day to the walls literally covered with huge flies. It happened twice where the infestation was so bad—literally swarms of them—that I had to stay with a friend. Fortunately, it did get me out of the apartment a lot more to explore the city! —Kaylyn Buckley