This Sleek, Space-Saving Spray Bottle Has an Ingenious Feature to Help Declutter Your Cabinets (Hear Us Out!)
We independently select these products—if you buy from one of our links, we may earn a commission. All prices were accurate at the time of publishing.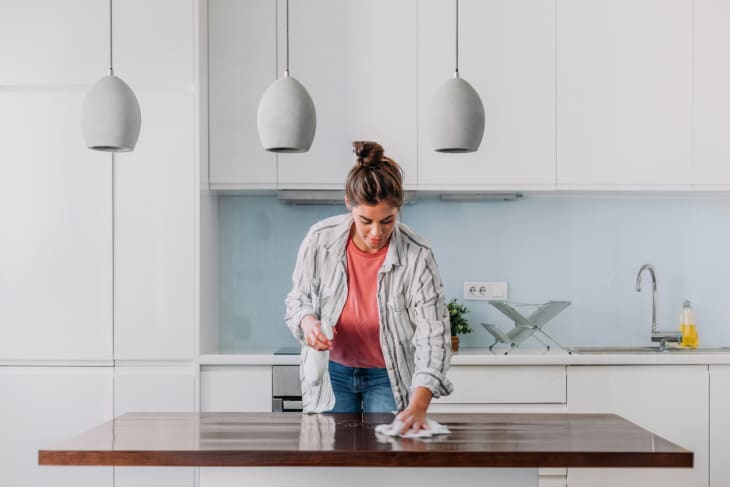 Yes, I'm essentially a professional shopper, but I'm still constantly amazed by the inventions that brands (and independent makers) come up with to simplify housekeeping, save space, and look good doing it. Yamazaki has been at the forefront of so many of these innovations for years, but the brand just continues to raise the bar. As part of its Tower collection, these Magnetic Spray Bottles practically disappear into even the most minimalist home decor schemes while allowing you to save counter, shelf, and cabinet space at the same time.
Follow Topics for more like this
Follow for more stories like this
This $12 spray bottle, available in matte black or white, holds your decanted cleaning solutions — be they for laundry stain removal or countertop disinfecting — and adheres (damage-free!) to any magnetic surface, from your dishwasher and refrigerator to your washer and dryer. Keeping these spray bottles at the ready, wherever you frequently use liquid cleaning formulations, means staying on top of regular tidying sessions, quickly addressing stain emergencies, and dedicating fewer weekends to deep-cleaning marathons.
Of course, the Magnetic Spray Bottles can be used for so much more than just cleaning. Try keeping your cooking oils in them, perhaps with some cool, custom labeling, and attach them to your fridge or oven border for easy access and quick, even application when you're getting ready to sauté or bake. When you go to mix up your perfect salad dressing each week, why not keep it in a Yamazaki spray bottle attached to the inside of your fridge, saving shelf space and mason jars for other things? You can get as creative with the Magnetic Spray Bottles as you want.
As someone partial to decanting everything into attractive, uniform containers, I'm this close to buying 10 of these spray bottles myself, scattering them across my home, and having my cleaning solutions, air fresheners, and kitchen ingredients handy at all times.