5 Tips I Wish I'd Known Before Hosting My First Yom Kippur Break Fast
We independently select these products—if you buy from one of our links, we may earn a commission. All prices were accurate at the time of publishing.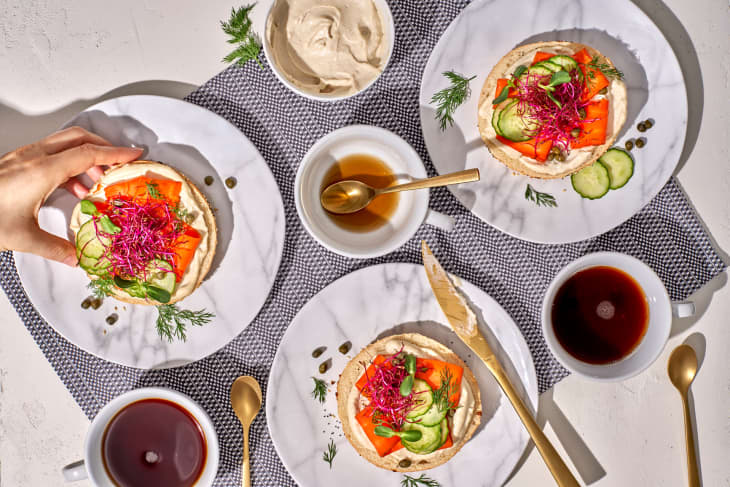 The first time I hosted a break fast for Yom Kippur also happened to be the first time I brought friends and family together in my own home, under my roof for a religious observance. Sure, I'd had many dinner parties and nights before, but this was my first holiday and, with that, comes the weight of shaping the experience of everyone in attendance. I was worried that if my celebration was poorly hosted, that would be what my guests remembered most. After all, they wouldn't celebrate another for an entire year.
Follow Topics for more like this
Follow for more stories like this
So, in addition to the significance of Yom Kippur as the holiest day in the Jewish calendar and a day of solemn atonement, reflection, and fasting, I also had a sense of finding my place in faith as an adult and figuring out how culture, community, and connection shapes that. Spoiler: For me, it's everything. I put together an ambitious, entirely homemade menu, fretted over whether I was doing it "right" or according to "tradition," and kept my fasting guests waiting while I tried to pull everything together on perfectly set platters. The result? A stressed hostess and hungry guests who could have cared less about how well I'd plated the crudités. 
Since then, I've lived, learned, and called in the pros for the ins and outs of hosting that I wish I knew the first time around. I talked to Jewish entertaining experts, educators, and spiritual leaders for their best advice for first-time break fast hosts; how to create a welcoming, warm environment for family and friends; and why there's no shame in calling in the catering. So, whether you're hosting in a new city without your family by your side, looking to create your own traditions as an adult, or learning the ropes as a convert, here are the five tips you need to know before hosting your first break fast. 
Make-Ahead is the Name of the Game
Traditionally, people observing Yom Kippur are not permitted to cook, since that is considered work and you don't work observing a day of rest and Sabbath. This is why the break fast meal typically consists of easy dishes that don't need to be heated, like bagels and lox, or dishes that can be prepared ahead of time and then reheated when it's time to eat.
However, Rebekah Lowin, a Jewish lifestyle blogger and entertaining expert, notes that there's another consideration for first-time break fast hosts when it comes to preparing beforehand: Cooking while fasting would be awful!
"Make-ahead dishes reign supreme when it comes to break-fasts!" Lowin tells Apartment Therapy. "You're not going to want to make food on the day-of because you'll be fasting. You're more likely to spend the day curled up somewhere in a fetal position than scurrying around your kitchen. Prep all of your food the day or week before your break-fast."
She recommends that hosts stock up on bagels and fixings, fruit, bread, and coffee cake — all of which can be set out with minimal effort. You can also make a few dishes in the days or even a week ahead of your fast that can easily be frozen or refrigerated — such as quiche, kugels, and blintzes — to pop in the oven and reheat as guests arrive. 
Feel Empowered to Make Your Own Traditions
Traditions run strong, particularly when they're tied to religious holidays. However, most people reach a point where they have to figure out what's right for them. Maybe that's continuing your parents' meal just as they did it, and as your grandparents did before them. But, maybe, it means shaking things up a bit — and that's okay.
"It's ok to continue old traditions while also connecting to new ones," said Liz, a content creator who shares relatable stories about her life, motherhood, and Judaism on her Instagram account Jewishly Liz. (She also educates followers on Jewish traditions, bakes a mean challah, and cooks delicious Shabbat meals every Friday.) And she's letting first time break fast hosts know, you should feel confident in paving your own way.
"I grew up eating brisket at every single Jewish holiday. Since I've become vegetarian I no longer do this," she noted. "It's given me the opportunity to find new foods that are still traditional to Jewish holidays, but also fit with my dietary needs." This year, she plans on making kasha varnishkes and potato kugel, both of which feel special and can be made ahead.
Even if you're not cooking the same meal that's been served at your family's table for the past five decades, that doesn't make your celebration any less meaningful. "Even if you're not doing things the exact same way that you did growing up, you can still observe the holidays and find meaning in what you're doing," Liz said.
Greet Your Guests With a Treat and Caffeine 
When your friends and family show up for break fast, they're hungry. They've typically been without food and water for 25 hours, and it's time to eat. Saying hellos and figuring out the serving situation can take a few minutes, but don't make them wait to eat — be ready at the door with a little something. 
Kelly Breakstone Roth, an entrepreneur living in New York, was raised on her mother's extravagant Yom Kippur feasts. This year, she's spending the High Holidays away from her mother, and she's focused on creating her own traditions with her daughters. The tip to offer up a bite right away, however, is one Roth will definitely bring with her — and she recommends it to anyone hosting their first break fast celebration. 
"Have a pot of coffee ready," she tells Apartment Therapy, noting that while your gathering "might normally be too late in the day for caffeine, for the coffee addicts who deprived themselves of coffee for 24 hours, this is a real life-saver. Plus, what goes better with sweet challah?" Her go-to is a plate of warm, honey-drenched chunks of challah for a delicious taste of comfort food as soon as guests walk in the door. 
It's Totally Fine to Enlist (Catered) Help
One of the best break fasts I've ever been to was almost entirely catered, which allowed the hostesses to bring a large group together and mingle with their guests. Their biggest worry was whether the bagels had been delivered yet. You know how many people cared that they hadn't lovingly cooked every dish? Zero.
Lowin stands by this mentality. "It's also totally acceptable to order catering, which really cuts down on stress," she says. "What better way to support small Jewish businesses and delis in your area?" 
Of course, there's always the option to make one or two dishes you know won't stress you out, and, then, provide the rest through a combination of homemade and store-bought. "I always say, you don't have to feel like it's a black or white 'homemade' or 'catering' situation," Lowin said. "I find that the semi-homemade route is the best, most delicious, and most realistic way to host. Get the basics delivered, then use what little energy you have at the end of your fast to set things out on platters and pretty dishes. Tack on just one homemade make-ahead dish and you're in business."
Remember the Meaning Behind the Holiday
Allson Laichter, a Jewish community leader and meditation teacher, reminds us that fasting during Yom Kippur is a solemn religious observance, and is not just about making it to sunset without taking a bite to eat. "On Yom Kippur, we are supposed to unplug and pray and fast — to transcend the human experience in order to connect with ourselves and our source," she tells Apartment Therapy.
She recommends that hosts pause to bring guests together for a moment of reflection before indulging in a much-awaited meal. "The reality is everyone is cranky and hungry and thirsty, but the break fast holds a lot of power," she said. "I don't think it's nice to make people wait to break their fasts, but it can be super meaningful to make the first bite or sip special." 
But, remember, no matter what you do, where there's food, there will be happy guests. "If people have been fasting all day, they're starving and whatever you serve will be the best meal they've ever had," Laichter said. "It's low pressure!