York Wallcoverings' 2021 Color of the Year is a Timeless Classic
We
independently
select these products—if you buy from one of our links, we may earn a commission. All prices were accurate at the time of publishing.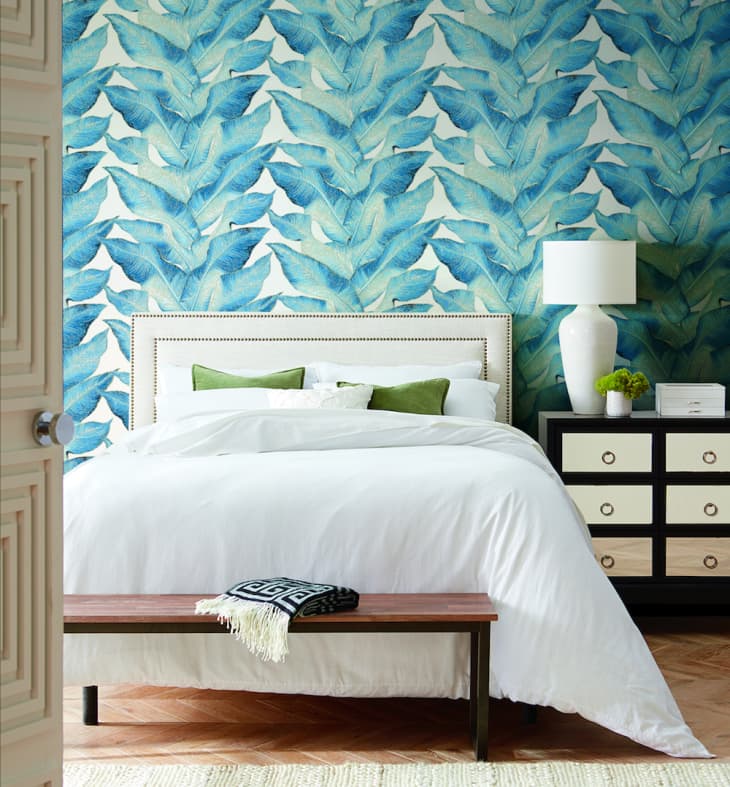 2020 has been filled with plenty of upheaval, so York Wallcoverings is ushering in a new year by paying homage to the familiar. The wallpaper brand has revealed its 2021 Color of the Year—and the choice is a timeless classic: Blue Jean Jacket. A light blue hue, the perennial color takes cues from none other than the American fashion staple that is a classic denim jacket. Blue Jean Jacket, ever so versatile, can be dressed up or down to achieve any design style in the fashion and home design space. 
The color signals a trend toward cozy and comfortable interiors, demonstrating the relationship between today's cultural sentiment and personal design preferences of designers and homeowners. Carol Miller, York Wallcoverings' in-house trend and color expert, cited feelings of comfort and familiarity behind the color choice. "From an aesthetics perspective, it's a beautiful color found in many of our most popular wallcoverings, and we've seen a big shift towards styles that evoke feelings of comfort and casual togetherness at home," Miller explained.
"There have been a lot of challenges this past year, and looking into 2021, people are craving spaces that provide relaxation similar to the familiar happiness you get from wearing your favorite denim jacket," Miller continued. "Furthermore, with its heritage spanning back about 130 years, we're inspired by the denim jacket as a symbol of the American dream: It's hard working, has homespun roots, and can be emblazoned with personality." The color expert added that it felt "very right to recognize Blue Jean Jacket as emblematic of strength, warmth, and the centerpiece of a confident tomorrow."
With the debut of York's 2021 Color of the Year, one sentiment is now abundantly clear: You could (and absolutely should) wear your classic denim jacket and put it on your walls and home decor, too.