You Asked, The Remodeling Pro Answers: How to Get the Most Out of a Semi-Finished Basement?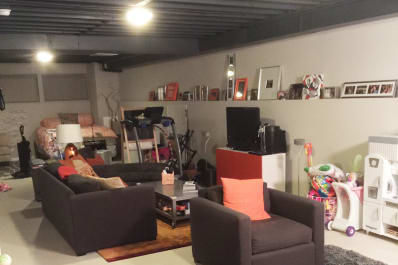 (Image credit: Sarah Kahl)
Sarah Kahl's house in the Logan Square neighborhood of Chicago has four bedrooms on two finished floors. But she wants to get more out of the wide-open semi-finished basement. There's already plumbing for a powder room, but Sarah wants a full bath down there. Her budget is $15,000 for everything.
In this series, expert Alex Bandon answers your specific renovation questions. Write in about your planned remodel, and she'll identify potential pitfalls, give recommendations, and help you get the most of your project!
(Image credit: Sarah Kahl)
From Sarah: We want to use the basement space in the best way possible for a lot of different uses. My dream list includes a guest bedroom, a full bathroom, a play area for the kids, a TV watching/lounging area, a place for exercise equipment, and somewhere to stash a chest freezer. Oh, and flooring would be great too. Lastly, should we move our office —currently located in an upstairs bedroom — downstairs as well?
(Image credit: Sarah Kahl)
Alex's Answer: Your space is huge, which is wonderful! Theoretically, you could fit everything you mention in there. The biggest things that could trip you up are: a) money; and b) codes. Here's what you need to know, and my recommendations:
(Image credit: Sarah Kahl)
1. You Gotta Get the Codes Right
The best place for a new bedroom is right where you have a bed now, because that's where the windows are. You can't have a bedroom without egress—a second way to get out in an emergency. The biggest question is: will your windows meet code?
National code says egress windows have to be at least 24 inches high and at least 20 inches wide, but one of those dimensions has to be bigger, because the basement windows must have a minimum opening of 5 square feet. That's not just so you can get out; that's so a firefighter in full gear with a tank can get in. The windows also can't be any higher than 44 inches off the finished floor.
This is where you stop and consult with a local architect, an inspector, or someone in the Chicago building department. Because city codes may be even more stringent than the national code, you need to be sure you're not creating a dangerous space.
(Image credit: Sarah Kahl)
2. Create a Bedroom with En Suite Bathroom
Once the bedroom location is fixed, you can actually create an en suite bathroom — a feature that's great for guests. To do that you'll need to use the laundry plumbing for the new bathroom (which is closer to the proposed bedroom), and move the washer and dryer to where the bathroom is now. A new wall will allow for privacy in the bedroom once it's separated from the rest of the open floorplan.
(Image credit: Sarah Kahl)
3. Keep The Office Space Upstairs
Instead of moving the current office downstairs, I would keep it upstairs. The bedroom you are already using is brighter, and more conveniently located on the first floor. This also leaves enough room for all of the other features you're hoping to include.
(Image credit: Sarah Kahl)
4. Create a New Floorplan for Everything Else
You then have room for a kids' playroom at the other end of the basement (assuming there are windows there too). Create another room at the other end of the basement near the stairs, making sure you leave at least a 3-foot-wide hallway (per code). You can even stash that chest freezer in there – make a long hinged-top bench on one side of the room to hold the freezer and some toy storage. (Just be sure you put a child-proof lock on the freezer side so the kids can't get themselves trapped inside.)
(Image credit: Sarah Kahl)
What's left in the middle of the room is a generously sized entertainment area, about 22 feet long. Set off the exercise equipment behind a half wall on the playroom end of the space, and rearrange the seating so it faces the television on the bedroom wall. Then you can watch TV while you work out.
5. Be Smart With Your Money
Fifteen thousand is not a very generous budget for all this, particularly if you need to hire a contractor. And you should, because the city will require you to get permits for the plumbing, at least.
Plumbing is a big and unavoidable expense, as managing drainage that's underground is particularly tricky. On the plus side, you already have two existing ejector pumps, which push the waste water against gravity and up to the drain. But you'll need a plumber to check if they're strong enough for a full bath and to install the special kind of toilet and shower assembly that work with a pump.
Bathroom fixtures and tile can eat into your budget, so you'll probably limited to a plastic shower pan, IKEA vanity, and plain tiles. But if you're handy, you can save money on labor by building walls, tiling, and laying flooring yourself. Click-together floors are easy to install over concrete, and they come in nice engineered wood, linoleum, and other great styles. Framing, drywalling, and tiling is a little more work, but maybe you have a handy friend or two who can help with those jobs. That way you can focus your spending on getting the systems working well and the layout up to code.
Alex Bandon has 18 years of experience in home renovations. She started as a writer and editor for This Old House, learning everything she could about residential construction and building materials. She now owns North River Renovation Management, and works with homeowners to design, budget, and manage their home makeovers.