The $20 Organizer That Instantly Created Extra Storage Space for All My Water Bottles and Travel Tumblers
We independently select these products—if you buy from one of our links, we may earn a commission. All prices were accurate at the time of publishing.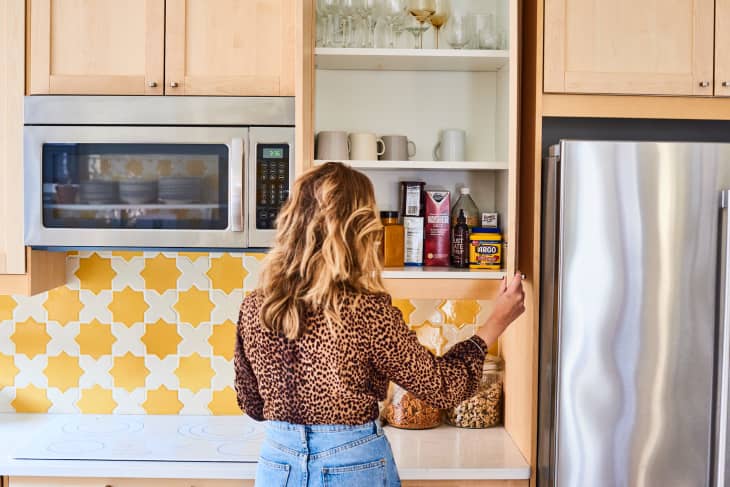 If there's one thing I both love and hate about my studio apartment, it's my kitchen cabinets. Let me explain. Unlike most studio apartments, I'm blessed with a lot of cabinet space, so much so that it was actually a deciding factor in me choosing my place. With that being said, my kitchen cabinets house much more than just kitchen essentials. From bathroom towels and toilet paper to art supplies and holiday decorations, they pack in a lot of stuff. Because of this, they can also get a bit … out of hand. One section of my cabinets that's been a mess for a while has been my water bottle collection. I, like many of you, have an array of water bottles and travel tumblers in my collection, and keeping them organized in a way that's both efficient and easy on the eye hasn't been easy — or at least it wasn't until I discovered the YouCopia UpSpace Water Bottle and Travel Mug Cabinet Organizer.
Designed to keep all of your travel bottles, cups, and mugs visible and organized, this YouCopia organizer is an adjustable must-have for anyone with more than a few travel bottles in their collection. Featuring two shelves that can be adjusted to various heights to suit all types of bottles and sizes of cabinets, this organizer helps you make the most of the vertical space in your cabinet and makes sure no bottles ever get lost again. Simply snap each shelf in place and you're ready to get organized. Best of all, this organizer has non-slip feet to keep everything in place, is easy to clean, and can hold up to 15 pounds worth of bottles!
Full disclosure: I've looked into a similar organizer before. However, I've always run into the same problem: They're just too wide. I didn't want to sacrifice so much of my precious space, so you can imagine the smile on my face when I saw that the measurements of this organizer came in at a compact 7.5" D x 11.4" W x 7.4" H, perfect for most standard cabinets. With this organizer, I'm now able to see every bottle in my collection at once and reach it with ease. The best part? Because of its two-shelf design, I can actually take advantage of the open space at the top of my cabinet and stack bottles on top of each other. Yep — this organizer created even more storage space!