Nico Tortorella from "Younger" Shares Their House-Hunting Meet-Cute
We independently select these products—if you buy from one of our links, we may earn a commission. All prices were accurate at the time of publishing.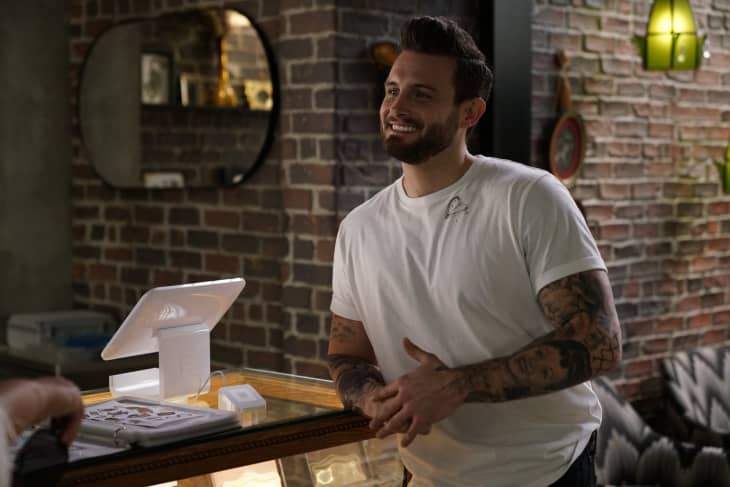 Real talk: I am a huge fan of TV Land's show "Younger," which is premiering its seventh and final season on April 15, streamable on Paramount+. Here's a quick synopsis: 40-year-old divorcee and mom Liza Miller pretends to be 26 to get a publishing job in NYC, ends up falling in love with a Brooklyn tattoo artist named Josh, then gets involved with her middle-aged boss Charles, and goes back and forth between the two romances while figuring out her career and identity. If you don't know already, it's as good as it sounds.
Follow Topics for more like this
Follow for more stories like this
But let's go back to that "young tattoo artist named Josh" bit: the Brooklynite, played by Nico Tortorella, is every person's dream partner: attractive, laid back, trustworthy, etc. Tortorella is equally dreamy IRL (proof all over their Instagram and from our Zoom interview), and also happens to be a new homeowner with an awesome house-hunting meet-cute story.
Over the past year, Tortorella and partner Bethany Meyers were back and forth between their home in Poughkeepsie, New York, and apartment in NYC. Tortorella expressed that when they started looking for a new home, they wanted one that was move-in ready with a driveway and garage that allowed for easy parking, plus close proximity to NYC. It sounded like an impossible combo — that is, until they stumbled upon the charming 1912 Southern Victorian in Weehawken, New Jersey.
Tortorella had been living in NYC for 11 years, and their house-hunting experience helped them discover the "glorious, idillic neighborhood in Weehawken" for the very first time. "We were looking in Brooklyn, the Bronx, Harlem," Tortorella told Apartment Therapy. "I have this reoccurring dream where I'm in a house, and I find this secret door that leads to an entire wing of the house that I never knew existed. I feel that way right now."
The home was gut-renovated a few years ago, so everything was fairly brand new when they took the tour. Not only was it move-in ready, its location was also unbeatable. "It took me six minutes from Hell's Kitchen to get to [this] house last week — where can you get anywhere in New York in six minutes? Nowhere!" Tortorella exclaimed. "And the view in Weehawken, hands down the best view of New York City that exists."
But as meet-cutes often go, it's not always about being calculated and checking off all the boxes you imagined you would — it's a feeling that's, well, indescribable. "We looked at a bunch and the second we walked into this place, it was a no-brainer," Tortorella recalled.
As far as plans for the new house goes, all the details are yet to be determined. "We're going to take our time with it, we didn't really bring any furniture we had, we're gonna just start from scratch and curate the shit out of this space," Tortorella said. But what we do know: they want it to be a "poppy, space-age astro vibe, with lots of natural stones and natural colors." And we're on standby for whenever they're ready to show us.