I'm a Private Chef and I Swear By This Versatile Kitchen Knife (Bonus: It's on Sale!)
We
independently
select these products—if you buy from one of our links, we may earn a commission. All prices were accurate at the time of publishing.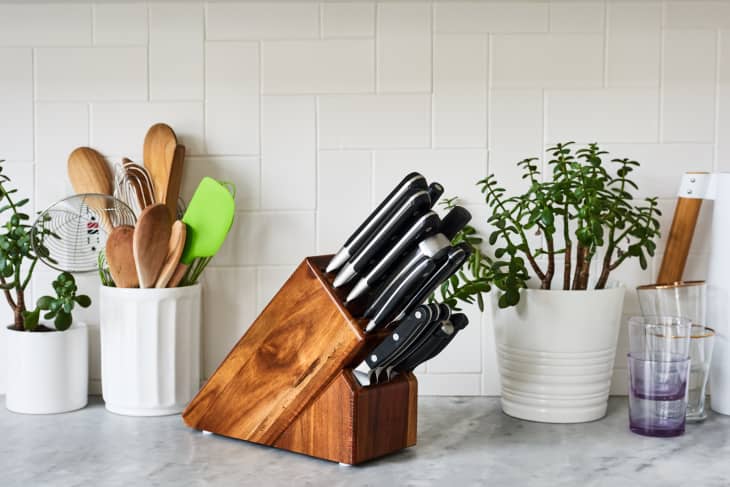 I'll say it: A kitchen isn't a kitchen without proper knives. As a private chef (and the friend that cooks) I've done lots of slicing and dicing in a number of home kitchens with less-than-stellar knives. I can't tell you how many tomato seeds and juices have shot across the kitchen or stained my clothes because of a dull, borrowed knife. And that's exactly why I now bring my handy dandy Zwilling serrated utility knife with me on the regular.
Zwilling's stainless steel knives are trusted for a reason, and this dependable serrated knife comes in handy for more than loaves of bread. I use it for slicing things like juicy fruits and winter squash with hard-to-cut-through exteriors. Sometimes I even call it my "tomato knife" because it will indeed slice a tomato beautifully — no splatter, no squishing. There's truly nothing more satisfying.
Better yet, at almost half the size of a standard 9″ bread knife, the 5″ serrated knife is easy to take with me when I'm cooking on jobs, camping trips, and picnics. In the summer, I'll bring it to the farmers market, buy a ripe heirloom tomato along with fresh mozzarella and a sourdough loaf, and make a Caprese sandwich in the park.
Insider tip: After working in restaurant kitchens, I've learned how important it is to switch up your knives so that one isn't handling all the brunt work and dulling prematurely. Luckily for you, Zwilling is having a huge cutlery sale right now, with knives up to 70 percent off. I recommend grabbing a few to fill up your knife block at these hard-to-beat prices.