10 Mesmerizing GIFs of Small-Space Living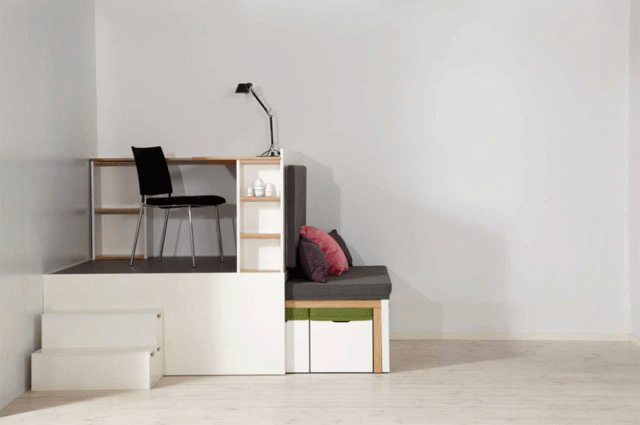 When you live life in only a few hundred square feet, a home must become a very fluid thing. Tiny apartments actually exist in four dimensions, and without capturing "time," it's impossible to truly reveal what it's like to live small. Thankfully for all of us, the internet has adopted GIFs as a form of animated photo currency, and we can all see how real people make small homes work.
Here are 10 animated GIFs that display some of the most mesmerizing multi-tasking furniture and modular apartments across the world.
2. The Zoku Loft, a rentable 25-sq-m apartment in Amsterdam
4. The 5:1 Apartment in Gramercy Park, designed by MKCA
5. This school-bus-turned-dwelling, home of Hank Bought a Bus
8. When your coffee table is also a desk and dining table, like Eleonore Bridge's apartment
9. Partywall, designed by MKCA, which transforms from a display to a party bar to a dinner table for two
10. And this living room that was built for living with a custom furniture solution from Ruetemple
(GIF by Homedit)
Re-edited from a post originally published 7.28.15-NT