Would You Put a 12-Foot-Tall Skeleton Inside Your Home? These People Did
We independently select these products—if you buy from one of our links, we may earn a commission. All prices were accurate at the time of publishing.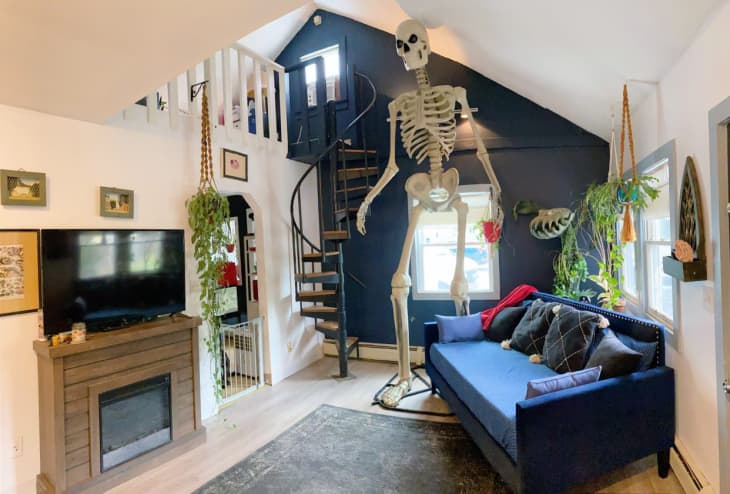 At this point, you've probably seen or heard about Home Depot's viral 12-foot-tall skeleton. In the midst of the pandemic, this giant, sold-out figure appeared on social media and lawns across the country, leaving many wondering how they, too, could get their hands on the colossal skeleton with glowing eyes. 
Follow Topics for more like this
Follow for more stories like this
And while the skeleton — appropriately and adorably named Skelly — is a fixture in lawns in the weeks leading up to and after Halloween, there are those daring, creative individuals who have set up these statuesque skeletons inside their homes, as a central statement piece among furnishings and fixtures.
Jamie Macchia originally put up her skeleton inside her upstate New York home because she was worried about it getting vandalized, but the quirky piece quickly became a fun focal point in her eclectic living space next to her gorgeous winding staircase, among houseplants and a dark navy, almost black, wall that looks like it was commissioned just for him.
"I always wonder what people think when they drive by because you can see its rear end and legs from the window," she says.
For New York actor Ricky Schroeder, the decision to set up the $299 skeleton inside his Hell's Kitchen apartment was both out of necessity and drawn from a genuine affection for all things Halloween. Schroeder doesn't have a lawn on which to display his Skelly, so he situated the imposing figure in the middle of his and his partner's living room next to a Marilyn Monroe print and mid-century modern chair. 
As COVID-19 spread through New York City and surrounding areas like wildfire, Schroeder was hesitant to have Halloween gatherings, so putting up the 12-foot skeleton was a way of bringing levity to a time that was plagued with so much sorrow. Schroeder even created a podcast called October State of Mind where he discussed and celebrated all things Halloween, from DIY decorations to scary tales.
"Having the skeleton was part of my pandemic Halloween therapy," Schroeder says. "I wanted to bring some of that spooky joy inside my home."
It's unlikely you'll ever meet a couple who loves Halloween as much as Adrienne and Andy St. Laurent. Their TikTok is largely dedicated to highlighting their family costumes and their two 12-foot skeletons' year-round costumes and shenanigans. So just how did the couple end up with two Skellys inside their Indianapolis home? Adrienne says when they started to pack away their first 12-foot skeleton, a wedding anniversary present, she felt sorrow at the thought of him being gone.
"I was just really sad. I was like, 'I don't want to put this in storage. We paid all this money for it. I don't want to pack it away for half the year.' And my husband was like, 'What if we move some things around and bring him in the living room,'" Adrienne says. "We made some room and moved some blankets and little things we had and brought the first one in, and I was like, 'This is the best decision ever.'"
The first skeleton stayed up in the St. Laurent's home all of 2020 and was decorated and costumed according to each season and holiday, and when summer 2021 came around, the couple actually gifted each other another Skelly in honor of their 20-year wedding anniversary. After all, every Skelly needs a mate!
Together the St. Laurents' skeletons have transformed into characters like Gomez and Morticia Addams, Olympic athletes, leprechauns, Easter bunnies, and other personalities all within their living room. But when it comes time to decorate the yard for Halloween at the end of September, the couple will bring their Home Depot decor back outside so neighbors can also enjoy the towering duo.
That doesn't mean that Adrienne won't miss them while they're gone: "They're the staple in our home, and I hate when we have to take them outside because it's such an empty void when they're not here."