I Tried a 1920s Cleaning Routine for a Week — And it Was Nearly Impossible
We
independently
select these products—if you buy from one of our links, we may earn a commission. All prices were accurate at the time of publishing.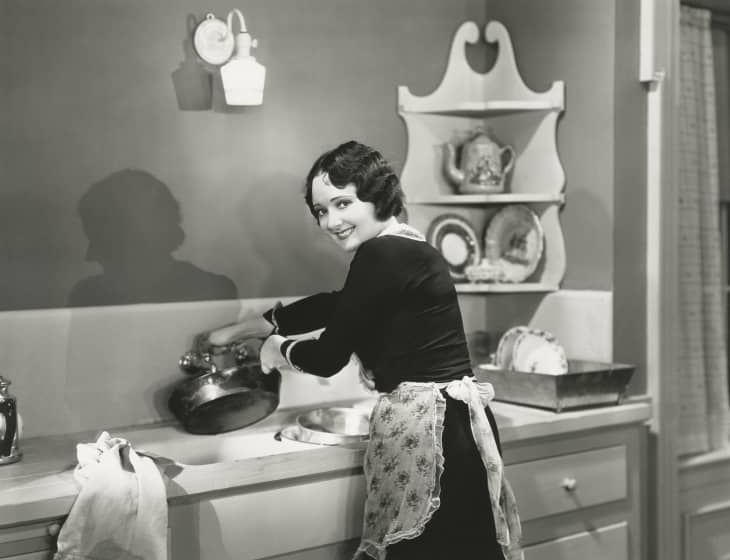 This year means history is officially in the '20s again, and I'm dismayed to discover we didn't instantly bring back all the decor and clothing styles straight out of "Downton Abbey". While I sadly can't single-handedly convince everyone to gravitate back to 1920s fashion, I can focus on my goals for this decade of the '20s—one of which is to get a handle on my household cleaning tasks and find a routine that works well for my family.
Naturally, my mind began to wander: How has cleaning changed in 100 years? 
While the book is written for professional housekeepers—teaching them how to take care of their clients' spaces and manage their businesses at the same time—it reveals a lot about the standards of the time. If I'm lucky, this 1920s routine will reveal some bygone housekeeping gems in the process.
A Typical 1920s Cleaning Routine:
The housekeeping book lists a weekly schedule as well as a daily routine. At first glance, the weekly schedule seems surprisingly simple:
Monday: laundry work
Tuesday: mending
Wednesday: cleaning of silver, pantry and icebox with "a legitimate afternoon out"
Thursday: alternate a cleaning of living room, hall and stairs, with the cleaning of dining room, hall and stairs
Friday: clean bedrooms and bath
Saturday: kitchen and closet and icebox
But the daily routine was more involved; it was divided into work for the "downstairs" (all the living spaces and the kitchen) and the "upstairs" (the bedrooms and bathrooms).
Open the dining and living room windows at 7:30 a.m. to thoroughly air out the house, "for a few moments".
Tidy the hall and living room while the windows are open, including taking care of clutter and "plumping" all the cushions.
Set the breakfast table and serve breakfast at 8:00 a.m.
Additionally,  you must:

Wash dishes three times daily
Dust and "dust mop" floors (I used a Swiffer)
Vacuum all rugs
Polish furniture and silverware
Refill the dog's water bowl
Remove wilted flowers and fill flower vases
Tidy bathrooms first:

Clean toilet, tub, and surfaces
Change out towels

Wash floor "only once a week unless needed" 
Do the guest bath even when there's no guest!

"Do up" one bedroom at a time

Air out the sheets & make beds
Replace sheets & turn mattress weekly
Change pillowcases biweekly
Vacuum floors and under beds
Seems like a lot, but let's see how it goes…
Typically, I wake up before my husband, leave for the gym, and he takes care of simple breakfasts and school drop-offs. 
For this schedule, the daily routine required that breakfast be on the table as the family arrives "downstairs" (my home is single-level). There were blueberry pancakes and sausage on the table, to my kindergartener's delight. He exclaimed "Pancakes? On a weekday!"
At the book's recommendation, I wrote out a menu for the week on a chalkboard that hung in our dining room. I did the dishes while my husband and son ate at the table, chatting. It was kind of picturesque… but then again… I wasn't eating with them; I was cleaning.
Today was laundry day, and the book raved about using one of those "brand new" machines that can do your dishes or laundry for you. I took advantage of my washing machine without hesitation, but hand-washed the dishes. (I needed to run a cleaning cycle for my dishwasher anyway, and it seemed like an authentic decision since not everyone would have had access to new appliances back then.) Breakfast, decluttering, and dishes took much longer than expected; I was an hour behind by the end of my "downstairs" routine.
Today's breakfast involved magazine-worthy yogurt parfaits in conjunction with the fresh flowers on the table. The weekly chores seem so easy, but then you realize every day necessitates an in-depth wipe down and vacuum of the whole house. It was tiring. 
For mending day, I simply darned a few pairs of my husband's favorite worn-in socks. Since my sewing prowess is limited to a poorly-done whip stitch, the repair was a bit obnoxious. I scheduled a time that evening to visit my mother-in-law who graciously assisted with a few less-replaceable items.
The daily cleaning was getting easier, and breakfast was a loaf of pumpkin bread I baked the night before. Menu planning helped me follow through with my ambitious (but well-intentioned) dinner plans the night prior.
I was starting to see the benefit of a daily wipe down. It's relatively fast, and having everything continuously sparkling feels so nice. Replacing linens, cleaning the toilet, and cleaning the shower daily feels like a bit of a stretch… especially in guest bathrooms.
Wednesday's task was polishing with a "legitimate afternoon off." I tackled mirrors and glass in my home in place of traditional polishing. Since we recently sprung for a Roomba, I honored the day off by letting my robot servant handle the vacuuming while I went to work, aka doing laundry due to changing both of my bathrooms' linens daily. At some point our puppy trekked mud through the kitchen. The novelty of this project had officially worn off. 
The only thing that continued to offer that refreshing clean feeling was the beautiful flowers still standing tall on my kitchen table.
On Thursdays, the schedule indicates that you clean the hall and stairs alternating between the living room and dining room. I was already dusting, vacuuming, and removing any clutter on a daily basis. I vacuumed the furniture in the living room and mopped the floor in the dining room and hallway. This was getting more than just tiring; it was getting discouraging. Striving for perfection, I followed my family around thinking, "I'm not your maid!"
Except that this week, I was. 
I'm not proud to say that I unkindly glared at my husband while he cut a bagel and sheepishly swept off the crumbs into the sink. I quickly walked over to the sink and pointedly stared at him while I sprayed the sink of any remaining crumbs that didn't fall into the garbage disposal. It's much easier being in charge of the house if no one else is living in it.
Today's chore was to clean the bedrooms and the bathrooms. This was a lot. Most checklists separate bedrooms and bathrooms.
This 1920s routine specified that bedrooms are supposed to be vacuumed once a week, the sheets changed and washed, and the mattress turned! Since mattress materials were very different than what we're used to today, I avoided turning my king-sized behemoth of a mattress. 
Saturdays are reserved for cleaning the kitchen and "ice box" or refrigerator. This was the easiest day on the list because the daily cleanings required me to be so vigilant within the kitchen already. Of course, the daily tasks have to be tended to, as well. I completed them and changed out the water for the flowers on my kitchen table—they were still going strong and looking so cheerful!
Sunday is absent from the list, presumably a day off for housekeepers in the 1920s. I had to use the day to catch up on any chores that I couldn't quite finish throughout the week. If the weekly schedule seemed easy, it made up for it in a daily task list that was practically insurmountable for a working person. My morning gym routine, game night, and even Netflix time were all replaced by constant wiping and tidying. I was still behind. Laundry was sitting unfolded in a basket.
My husband took our son on a day trip so I could get some extra work done. On one hand, I was relieved, but I resented being left behind on an outing with the expectation that I would clean instead.
Takeaways After a Week of Cleaning Like it's the '20s
This project surprised me. I expected to complete the week and find a helpful cleaning rotation or fabulous cleaning tips that were lost with time. Instead, I learned a lot about my preferences and family's needs when it comes to housekeeping.
Throughout the week, I found myself feeling discouraged. I know this list would be virtually unattainable on my normal schedule—even with my husband's help. It would require so many daily sacrifices that we would be unlikely to follow through on. Knowing this, it was a matter of deciding what parts were both truly doable and important to our lifestyle. It was easy to cross cleaning the bathtub and toilet daily off our list. I feel very comfortable keeping it a weekly task with a spot clean here and there as needed.
Daily tidying is a must, and I loved the way small items were handled on the routine. The book suggests using a drawer or basket for small items left out saying that "It saves time on the part of the worker as well as the careless one who otherwise must hunt for a small, but needed possession." 
Menu writing actually did lead to less waste and decision fatigue. I also loved wiping the bathroom counters daily and will add this to my routine after the project. Deep cleaning the bathroom was way easier as a result. None of these were groundbreaking ideas, but they had a noticeable effect.
The One Thing I'll Keep Doing From Now On:
Surprisingly, my favorite part of the routine had little to do with actual cleaning or tidying. 
Purchasing fresh flowers may have been the highest-impact task I completed all week. Suddenly, I wanted to keep everything tidy to avoid taking away from the beautiful bouquet in my kitchen. I will absolutely be buying flowers regularly from now on. In fact, they brought so much cheer that I decided to buy new floral art pieces for my home. Tidying may last a day, but art is a long-term joy.
In the end, my modern day home won't be as perfectly clean as the ideal home from the 1920s. But this experiment helped my all-or-nothing self determine what matters in our home, and what can fall to the wayside. I think I'll relax a bit so my husband and son can actually live in our home (and help with the chores again too, please!).  
It was a relief to realize throughout this project that a home doesn't need to be spotless and perfect to be clean and inviting—especially if you can distract your guests with some beautiful flowers along the way.