A 350-Square-Foot NYC Studio Apartment Is Small But Spacious Feeling
We independently select these products—if you buy from one of our links, we may earn a commission. All prices were accurate at the time of publishing.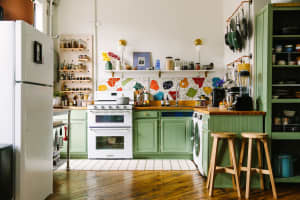 Can't-Miss House Tours Straight to Your Inbox
Keep up with our latest house tours each weekday with our House Tour of the Day newsletter
Name: Dana Miller
Location: Upper West Side — New York City, New York
Type of home: Studio Apartment
Size: 350 square feet
Years lived in: 3 years, owned
Tell us a little (or a lot) about your home and the people who live there: My name is Dana Miller and I'm Dean of Students at an adult ed creative writing school and a vinyasa yoga instructor. And I'm an Upper Westsider through and through. In fact, I grew up only a few blocks from where I now live. I remember jogging down my current block on my way to run in the park as a teenager and whispering to myself: "Someday, I'm gonna live on this block." Can you believe it? That went over big at my co-op interview!
This is my first real apartment. I've either lived in places where I had one foot out the door because I wasn't sure I'd be staying or I've lived with people, most notably and recently with my mom who was my best friend and passed a few years ago. I took care of her for a bunch of years.
I didn't envision myself in a 100+ year old brownstone — I favor new over old, used to jokingly tell my mom she was the only "old" thing I liked — but I had a budget and that didn't include doormen and elevators and glass and steel. I knew I wanted to be on the UWS because it's close-ish to work and to the studio where I teach and close to the park. And it's where my center of gravity lives, where I'm my best self. I looked at about seven apartments, all within about 10 blocks of each other and this was #4. The clear winner. I'm very big on gut feelings and I knew in my gut that this could be home. All the others felt like dorm rooms or efficiencies. This was a full apartment.
The size of the main room isn't huge, but there's a separate kitchen, a loft, 11' ceilings, and huge French windows that open onto all of these first floor brownstone gardens. I don't have outdoor space but I get to look at outdoor space, and that's almost better. Lots of foliage, lots of birdsong, very lush, very quiet.
I didn't have a fully crystallized vision when it came to decor but I knew certain things right away: I wanted a dark blue wall, a velvet couch, a modern vibe. I wanted soft textures, clean lines, a mix of bold and subtle, and no clutter. All you need is to pack up a home you've lived in for more than 20 years once and you never want to accumulate stuff again.
I am in literal love with my apartment.
I'm very much a New Yorker, and my identity is very wrapped up in this amazing city; it's lines and angles, the meld of old and new, of pace and stillness. I lived in LA for a bit, too, vacationed there with my parents before staying at a scrumptious hotel wasn't prohibitively expensive, and love TV and movies. So I'm influenced by that, too. Hence the Beverly Hills Hotel wallpaper behind the ladder to the loft and the photograph above the couch (that I saw in a store for $4K and bought online for $400).
Describe your home's style in 5 words or less: Pop-culture chic, soft, svelte, sophisticated with a wink.
What is your favorite room and why? Well, it's essentially one room, but I can give you favorite elements:
The midnight blue wall (dark colors work well on walls with windows and doors because there's a sense of depth and space)
The velvet couch (soft fabrics make angles less… angular)
The Beverly Hills Hotel wallpaper and photo
The panel curtain by the bed (it gives the impression of dividing the bed from the rest of the room without chunking up such a small space. And it's a little sexy the way it sways)
The peace sign in the kitchen window
What's the last thing you bought (or found!) for your home? Most recently, I re-did my kitchen cabinet doors. It cost a lot of money and the experience was, let's say, not pleasant. But I love how they turned out. Sleek and clean and bright.
Any advice for creating a home you love?
Don't be afraid of blank walls. There is strength and beauty in sparseness.
Spend on the big stuff if you have the money: get the good mattress, get the good air conditioner, invest in lighting. These were all hard purchases for me to make because they were big ticket items. But I'm grateful I said 'yes' to them.
Ask for help. I don't DIY, but I'm a big fan of DI-Tina and DI-Melissa and DI-Danny.
Don't make expensive purchases in an accent color that you might not dig in two years.
Small space tip: never tell yourself you'll put away x or y or z later. Always put it away now.
If you make a change, even if it's one you feel good about, and once you do it, it feels weird or wrong, give it a few days. Even good changes take a minute.
Give yourself permission to curate and craft YOUR space, YOUR refuge. Take advice, but tune in.