5 Smart Studio Apartment Layouts that Work Wonders for One-Room Living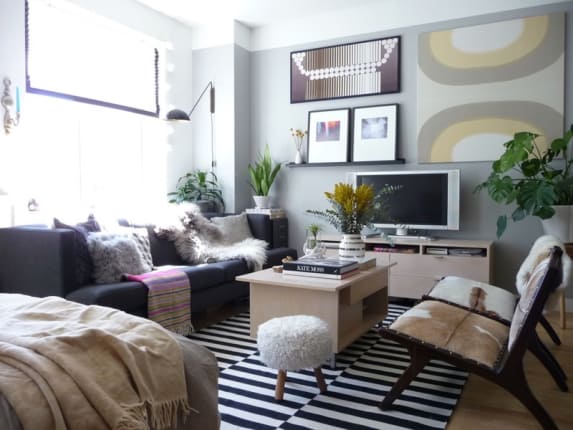 Arranging furniture in a small space is always a bit of a challenge—and this is particularly true if your space is a bedroom, living room, dining room, workspace, and kitchen all in one. If you're looking for inspiration for the layout of your studio apartment, look no farther than these five diminutive spaces, whose owners came up with five very clever solutions for one-room living.
In Abigail's tiny Chicago studio, angling the couch — and placing another chair across the room — creates a 'living room' that takes advantage of most of the floor space in the main room. The two stools can function as occasional tables or as extra seating, and the bookcase helps to separate the bed a bit from the main space.
Jennifer's tiny apartment (only 136 square feet!) has been one of my favorites, ever since I spotted it in a Small Cool Contest many years ago, for its incredibly clever use of space. Even if your apartment is a little bigger, you can still take advantage of this clever layout trick: placing the sofa against the long edge of the bed, so that the sofa itself forms a sort of division between the living space and sleeping space. (You can also choose to add a curtain between the bed and the sofa, as Jennifer did.)
If your space is wide enough for it, you could create a setup like the one Miwa made for her 430-square-foot New York studio. The bed faces the living room furniture, which is collected together into a conversational grouping that establishes the living room as a distinct space. The rug that the furniture sits on helps to further design the space. I particularly appreciate that, while watching TV is certainly an option, the furniture is arranged (with the couch facing the two chairs) to maximize conversation.
Matt went for a similar setup in his much smaller 300-square-foot studio. There's something about having a grouping of furniture in the "living room"—couch, chair, coffee table, all arranged on a rug—that really establishes it as a distinct space. Plus, it's much easier to have a conversation when friends come over. The ottomans at the foot of the bed can be pulled over for extra seating, and the rolling kitchen cart is a great way to add extra storage and work space to a small kitchen.
Imitating what Helen Louise has done in her Danish apartment would certainly require a little more DIYing than the other options, but I had to include it because it's just so darned clever. The bed sits up on a platform made from IKEA pieces, with plenty of storage underneath. (A platform bed is a particularly good choice for small spaces, because it helps to establish the 'bedroom' as a separate space while also providing quite a bit of extra storage.) The bookcases that wrap the living room also help to provide a little privacy for the bed, and the dining table is positioned, cleverly, in the center of the living room, where there's plenty of room to maneuver.
Looking for more studio apartment inspiration? Check out these 5 other incredibly clever and steal-able studio apartment layouts..
Apartment Therapy supports our readers with carefully chosen product recommendations to improve life at home. You support us through our independently chosen links, many of which earn us a commission.