5 Ways to Remove Red Wine Stains, According to a Laundry Pro
We
independently
select these products—if you buy from one of our links, we may earn a commission. All prices were accurate at the time of publishing.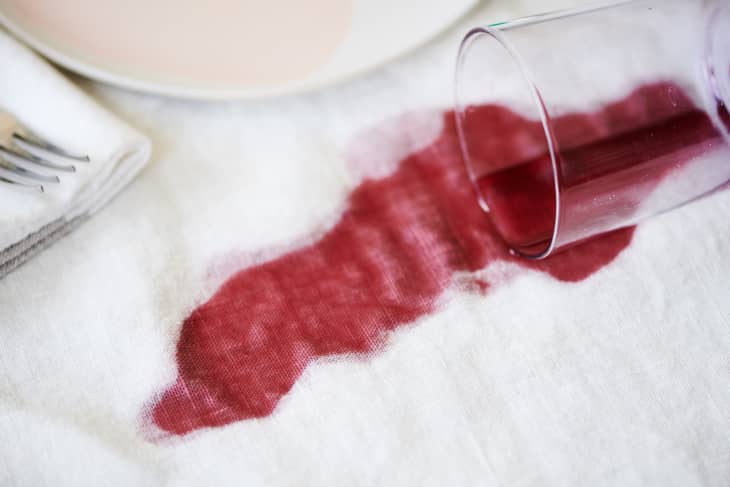 Oh no! A guest at your holiday party has spilled red wine on your tablecloth. Or your white couch. Or your carpet. (Hey, accidents happen!) It's time to do some triage. First, resist the urge to scrub the spot.
"Rubbing the stain, whether with a cloth or sponge, can lead to it setting deeper into your fabric and becoming more difficult to remove," says Matt Connelly, CEO and founder of ihateironing, an on-demand laundry and dry-cleaning service. "Always opt for blotting or gentle patting of the stain."
Now, head to your kitchen to gather some materials for these home remedies.
Make a paste of three parts baking soda and one part water, then spread it over the stain. Leave the paste for an hour, and then rinse everything off with cold water. Connelly suggests trying this on an inconspicuous area of the fabric first — otherwise, you risk making the stain worse or damaging the fabric. Once the stain is out, wash the fabric in the washing machine if possible.
Method 2: Vinegar, dish soap, and laundry detergent
Use only white vinegar for this method! Otherwise, you risk making the stain worse. The first thing to do is pour enough white vinegar on the stain to soak it and then add a few drops of dish soap and laundry detergent. Blot it a few times, and then rinse it with cool water. You can also put the mixture on, then drop the whole thing in the wash.
Method 3: Hydrogen peroxide and dish soap
Connelly notes that this method should really only be used on white fabrics because hydrogen peroxide has harsh whitening properties. You should also avoid using it on delicate materials like silk and wool. Make a solution of one part hydrogen peroxide and two parts liquid dish soap. Blot the mixture on the stain, let it sit for 30 minutes, and then rinse the spot with cold water. Repeat as needed until the stain is removed, and then run the fabric through the washing machine if possible.
This method only works if you do it immediately after a red wine spill. It's perfect for carpets or couches — things you can't just throw into the wash. Blot up as much of the wine as you can, and then pour salt over it. Use enough salt that it completely covers the wine and you can't see it anymore. The salt will soak up the wine. After five or so minutes, just vacuum the mess up.
Method 5: Non-home remedies
If you don't have the time or ingredients to do your own stain removal, Connelly suggests using a commercially produced stain remover or taking the item to a dry cleaner. Both use some solvents that will effectively break down stains without damaging the fabric — just make sure you're getting it handled right away!
A version of this story was first published on August 4, 2012, by Maxwell Ryan.