6 Ways to Use Your Tax Return to Help People in Need and Make a Major Impact in Your Community
We
independently
select these products—if you buy from one of our links, we may earn a commission. All prices were accurate at the time of publishing.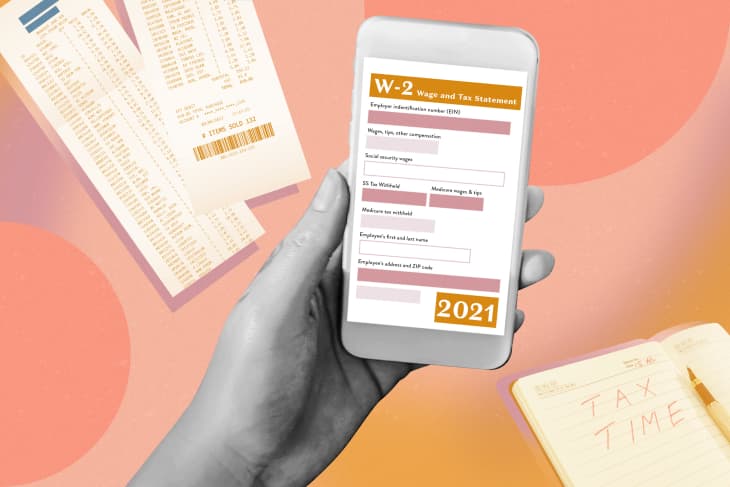 If you're receiving a tax refund this year, you've probably already thought about what you'll do with the sum of cash, whether it's paying off student loan debt, starting an emergency savings account, adding to your retirement fund, or booking a much-needed self-care trip now that you're vaccinated. Maybe you're even treating yourself a bit, or chipping away at your credit card balance. These are all solid, productive ways to use your tax refund, but here's another option to consider: giving back.
The COVID-19 pandemic devastated countless families all over the world. In the United States, tens of millions of people lost their jobs. Millions more are at risk of being evicted and are experiencing food insecurity. As vaccine eligibility expands, many people are regaining a sense of "normalcy." But for those whose lives were deeply disrupted by the public health, economic, and social crises, additional aid may be a lifeline to overcome the blows of the pandemic. 
If your income wasn't severely impacted in the last year, you might want to use all or even part of your tax return to help those who were affected. Money expert Cindy Zuniga-Sanchez suggests a 10-20-70 split for your return: 10 percent for giving, 20 percent on a small splurge, and 70 percent for your financial goals. "This kind of division ensures you're helping while also hitting your financial goals and treating yourself," the financial coach and commercial litigation attorney tells Apartment Therapy. "This does not mean you're being selfish; it means you're being smart. When you prioritize your financial goals, you enable yourself to be on a path of financial freedom, which will allow you to have a greater impact later."
Below, find some ways you can use your tax return to give back.
Donate to a local organization, group, or individual.
The pandemic has reached every U.S. state, and local nonprofits and community-based groups are still struggling to meet the needs of thousands of people who were laid off, are facing eviction, or are hungry. Research which organizations in your city have been leading aid efforts, ensure their mission and practices align with your values, and then reach out to see what sort of donations they're looking for, whether it's money, protective gear, nonperishable goods, school supplies, clothing, gas cards, or other items. If it's a GoFundMe campaign or cause circulating on social media that moves you to donate, be sure to double-check if you're giving to the right fund (oftentimes, multiple campaigns are created around the same issue but only one is directed to the impacted individual or group) or that you have the accurate Venmo, Cash App, or Paypal information.
Drop off personal care and hygiene products to a shelter.
As in other times of crises, lockdowns and curfews forced many victims of domestic abuse to shelter with their abusers and contributed to an increase in gender-based violence in the last year. Throughout the country, shelters have faced the unprecedented challenge of providing sanctuary and resources to an influx of adults and children while also containing outbreaks within their facilities and keeping other clients safe and isolated. To help survivors and the safe houses providing them with life-saving resources, call your local shelters that serve people experience domestic abuse to see how you can best support them. Oftentimes, these facilities welcome personal care and hygiene products for their clients.
Help a student return to college.
A 2020 Census survey found that 16 million people in the U.S. cancelled plans to go to college, most of them due to the economic disruption caused by the pandemic or fears of contracting COVID-19. Low-income students are more likely to drop out and less likely to ever return than their wealthier counterparts: Studies show that just one in five students who drop out ever go back to school. If there's a student in your life or community who had to stop taking classes because of the pandemic, you can use your tax return to help them return to school by agreeing to support them during the next semester, either by funding some of their tuition or paying for their textbooks.
Start or donate to a community fridge.
As the number of food-insecure people in the U.S. nearly doubled to 50 million in 2020, the need to serve hungry neighbors inspired a boom in community fridges. The idea: install fridges in public, accessible spaces and stock them with fresh foods for locals to access for free. The mutual aid initiative works by neighbors dropping off what they can and others taking what they need. 
While community fridges first popped up in big cities, there are now hundreds located in neighborhoods across the country; and with your tax return and some time, it's an initiative you can bring to your community, too. First, you'll need to do a little research to determine where a community fridge would be most needed. Connect with local organizations who are already active in your community to see what they may have planned or in the works. Then, you'll need to speak with small businesses in the area and find one that will source power for the appliance. You'll also have to secure your fridge, which you can purchase for cheap or find for free on Facebook Marketplace or Craigslist. Then, you'll want to collaborate with local restaurants, supermarkets, and food pantries that might be able to regularly donate to the refrigerator. 
Once it's stocked, you'll want to be able to make time during the week (or build a group of volunteers that can help you) to sanitize the fridge, clean up, and discard (or compost) rotten foods. If you did your research and discovered a community fridge in your area that you weren't aware of before, get in touch with the organizers to see if they need money, food, or some other support.
During the pandemic, many childcare providers had to increase their rates due to the new costs of frequently cleaning equipment, purchasing protective gear for their employees, and decreasing the child-to-teacher ratio. As a result, some parents spent 30 percent more on annual tuitions, while others who couldn't afford the upswing were forced to quit their jobs and care for their children at home.
As restrictions lift across the nation and some childcare facilities return to normal rates and operations, some parents are ready to get back to work. To help them get there — and find time to prepare their résumés and go on interviews — consider paying for a relative's, friend's, or community member's kids' childcare for a week or a month.
Create a mutual aid fund.
If you're feeling good about giving back to your community and want to do it more often, consider using your tax return to create a mutual aid fund, which can either be a designated savings account or piggy bank that you contribute to monthly to help loved ones, community members, or causes you care about. Because it's the start of a new fund, Zuniga-Sanchez says it's OK to modify the 10-20-60 tax return split to give yourself a little extra cushion. 
"This is a good framework, but sometimes it changes," she says. "You can flip it so that 20 percent goes to your giving fund, especially if you're just getting started, 10 percent to yourself, and 60 percent to your financial goals."