This 80-Square-Foot NYC Apartment Is the Size of a Parking Space
We independently select these products—if you buy from one of our links, we may earn a commission. All prices were accurate at the time of publishing.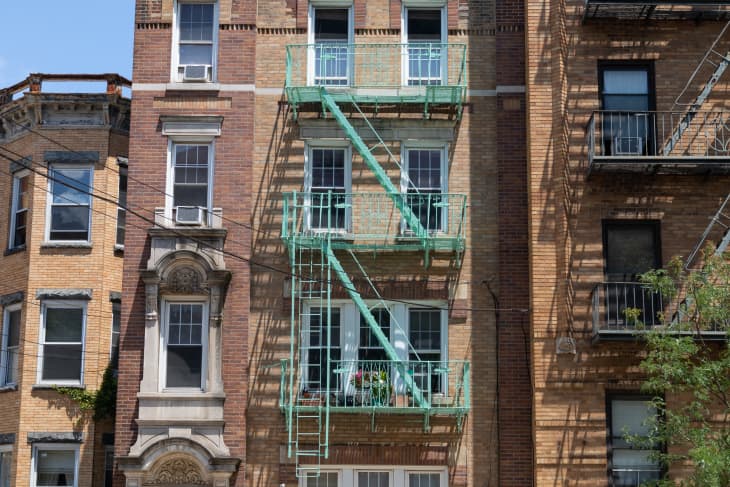 New York City real estate famously affords very little space for lots of money, but one viral micro-apartment might just take top honors on that front. NYC resident Alaina Randazzo recently gave CNBC Make It a tour of the 80-square-foot apartment she dubbed the size of a "parking lot space," and she might take the cake for living in the smallest apartment in the entire city.
Randazzo found the rent-stabilized micro-studio on StreetEasy back in 2021, paying $650 a month to live there. She told the outlet that her upfront moving costs totaled $1,950 and included the broker's fee, security deposit, and first month's rent. Amenities included a small kitchenette with a microwave, two burners, and a sink, a small closet, a loft bed, and room for a pull-out couch where she slept. 
Follow Topics for more like this
Follow for more stories like this
In 2022, she told Insider that she would visit the building's rooftop daily for natural light and fresh air, and that she actually didn't mind going down the hallway to use the bathroom. "Don't you share a bathroom when you are in a regular four person-style apartment anyways, and isn't the bathroom usually in a hallway in that sense, too?" she remarked. "It's in the hallway, but it's private. I have a lock to it," noting that she even stored "nice makeup" in the bathroom without worry.
While plenty may question the motivation behind moving into such a tiny space, the fashion campaign planner and content creator has shared that she'd been renting an apartment in a luxury high-rise building for $2,500 a month. She quickly realized it wasn't worth it because she was never home. "I wanted to pay less for rent so I could travel more and experience more," she told CNBC Make It.
Along with a considerable savings in rent, she also wanted to be in the center of the action in midtown Manhattan, adding, "Living in this place has been quite the adventure. It's nice because I was in Manhattan, so I wasn't missing anything."
Randazzo recently moved out of the micro-studio, opting to pay $1,350 per month to share a $6,750 a month East Village townhouse with four other roommates so she can have more wiggle room and more space to grow her business ventures.
"This big bed is definitely my favorite part of the room and I have a window this time, which I'm really happy about," she said. "I don't even know what to do with all this space."