A Loft of One's Own
We
independently
select these products—if you buy from one of our links, we may earn a commission. All prices were accurate at the time of publishing.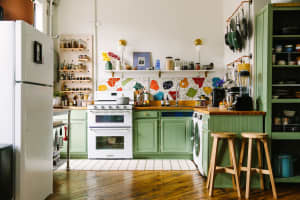 Can't-Miss House Tours Straight to Your Inbox
Keep up with our latest house tours each weekday with our House Tour of the Day newsletter
Name: Leanne
Location: St. Charles, Illinois
The basics: 2.5 years, rented
After sharing a much larger space for a few years, Leanne decided to downsize in order to live on her own. She's made the most of her space, customizing it to fit her needs and style.
Tell us a little (or a lot) about your home and the people who live there: After owning a large home for seven years which I shared with three of my adult sisters, I recently downsized to a (much) smaller one-bedroom loft-style apartment. I'm a busy entrepreneur and spend the majority of my time running my own wedding planning and event design business in the Chicago area. My work schedule is very demanding and includes a lot of evening and weekend hours, so the upkeep and maintenance of a single family home was too much for me. I had zero free time to mow a lawn or keep a big house clean. My new space is significantly smaller, but its all mine and I love it!
After college, I lived and worked in jobs that included furnished housing, so I had very little opportunity to express myself in my living space. Then I transitioned to home ownership with my sisters, where we meshed our design styles with the best of what we each had in our three different apartments, added some hand-me-downs and ended up with a nice place but no defined design style. This apartment has truly been my first chance to really decorate a space in my own style. Thankfully, I'm also now at a stage in life where I can choose to splurge on some special pieces that I would have held back on back in my "fresh out of college" stage.
What is your favorite room and why? My previous home had an open concept floor plan that combined the kitchen, dining and living space – and I didn't realize how much I loved that until I started looking at smaller places with more defined rooms. I didn't like that at all! I love that this apartment has an open concept for the main space, so that is easily my favorite room. I love that I can entertain guests while cooking in the kitchen, or chat with friends who are sitting out on the little balcony from the dining area. To me, this layout makes my place feel more cozy and welcoming – which is one of my strongest priorities when designing my home.
If you could magically change something about your home, what would it be? I cannot stand the carpeting! I wish for wood floors…and dream of beautiful tile. Carpeting is SO not my preference. It's just too plain, and not very practical for keeping clean. I've done a ton to personalize my apartment (painting, hanging things on all the walls, adding lighting, etc.), even though it could technically be considered a "temporary" living situation – but even I can't justify the kind of effort and investment replacing the flooring would require, even though I've seriously considered it.
Which fictional character would be most at home in your place? I think Rory Gilmore would love my place. Though I might need a few more of those rolling bookshelves in order for her to make my home hers!
Leanne's words of wisdom: Try to find creative ways to mix-in meaning within your decor. Some of my absolute favorite items have sentimental value that only I, or those close to me, would know about. It makes me so happy to look around and see things that make me think of people I love. I've got a very modern-looking chair that my grandparents had in their home from the time I was a child, all I had to do to make it fit my style was reupholster the cushions. I've got fun gifts from around the world brought to me by one of my aunts who is a flight attendant. I've got prints in my gallery wall made by a dear friend who does hand-lettering. I've got framed photos of my nieces and nephews taken by one of my brothers-in-law who is a pro photographer. All of these little treasures mixed in to my place make me feel at home and make me love being there.