A Small, Smart Space for Judah & Layla
We
independently
select these products—if you buy from one of our links, we may earn a commission. All prices were accurate at the time of publishing.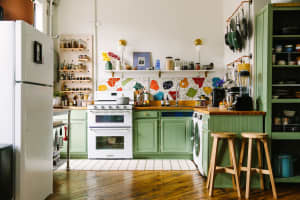 Can't-Miss House Tours Straight to Your Inbox
Keep up with our latest house tours each weekday with our House Tour of the Day newsletter
Name: Judah (4) & Layla (3)
Location: Senoia, Georgia
Room Size: 110 sq ft
Judah and Layla's shared space is about the same size as my daughter's small nursery (albeit a bit taller), so I was amazed with how their mother Keight was able to make the space serve so many different functions. It's a bedroom, a playroom, an arts and crafts space, and a general hangout. Not to mention the fact that she was able to pack an unbelievable amount of storage and style into the space, and on a budget to boot. I don't know about you, but I want one of those sleeping nooks for myself – they look so incredibly cozy! It just goes to show you that you don't need a ton of square footage or money to create both a stylish and functional space for your kids.
How would you describe the look and feel of this room?
Adventure chic? Let's go with that!
What is your favorite piece or element?
Organizationally, I'd have to say my favorite element is the wall of simulated built-ins which do the bulk of the storage for the entire room and allow for much more fun design to happen everywhere else. They are my noble workhorses. But as a kid-at-heart it's the loft of course! Lifelong dream of having a dumbwaiter: fulfilled!
What was the biggest challenge decorating this room?
The tiny space! "Normal" size pieces placed in here tended to dwarf everything else. We had to really get creative and think smart about proportions.
What do your friends say about the room?
Almost all of them have mentioned wanting to evict my kids so that they can move into the room themselves.
And perhaps more importantly, what do your kids think about the room? They love showing it off to their friends. Even though my son is afraid of heights (who knew?) and refuses to ascend the loft, he knows that it is a definite bragging point and leverages it accordingly with his guests.
Do you have any advice for parents creating a room for their child?
Get a storage plan first! No matter how cool your room looks, if there isn't ample and dedicated space for almost all the things, it's just going to end up all over the place, and the mess will quickly overshadow even the prettiest of rooms.
If money were no object, what's your dream source?
Fortunately my dream source as princess or a pauper is IKEA.
Tell us a little bit about the kids' bunk nooks – what was the inspiration, how difficult was it to create, and would you do it again?
I saw a pin that had used a (non walk-in) closet as a nook for built in bunks. It was perfect for this room since we had a closet that was very shallow, yet very wide (2.5 by 8 feet) – which is very awkward as a closet (the dimensions AND the outward swinging door whose arc gobbled up valuable floor space), but ideal as a sleeping nook, with the door removed.
We were frustrated to find that the pin was just a photo with no further information on how to construct, but my husband was able to design his own way of creating our nook, and I was giddily shocked when he had finished the entire project in less than two hours (and for less than $50 in materials!). The nook is the linchpin that makes this entire shared space work – rather than it just being a jumbled mess. We will probably recreate it in every house we ever live in, even if only to serve as a place for the kids' guests to sleep.
Thanks, Keight! Readers, you can see more of Keight by visiting her blog, Put Up Your Dukes.