A Special Room for Imminent Foster Kids
We independently select these products—if you buy from one of our links, we may earn a commission. All prices were accurate at the time of publishing.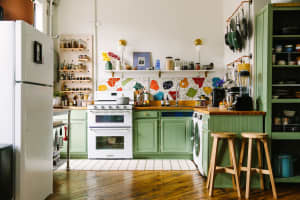 Can't-Miss House Tours Straight to Your Inbox
Keep up with our latest house tours each weekday with our House Tour of the Day newsletter
Kids: Unknown; foster kids expected any day, one or sibling pair ages newborn – 5 years
Location: Nashville, TN
Room Size: 10′ x 11′
Martina and her husband Jason were in a unique position when designing the kids' room for their house. They still don't know how many, what gender, and what ages the children they foster will be. While they've had two calls already for placement that haven't come through, they are anxiously anticipating opening their home to some kids who desperately need a loving space of their own–any day now.
Follow Topics for more like this
Follow for more stories like this
Many people have asked the couple whether their decision to foster children is a result of a struggle with infertility. While they haven't yet gotten pregnant, applying to be foster parents was more of a passion with them, rather than a compromise. They feel compelled to help children who are in need of a home, whether or not they currently have biological children of their own.
Taking in foster children, though, presents some difficulties in room planning. The room needs to be ready on a moment's notice, so it must be prepared before the parents know the age(s) and gender(s) of the children. Martina and Jason met the challenge head-on, though, designing a unisex room appropriate for kids ages newborn to 5 years.
Martina's love for a mid-century modern aesthetic led to an eclectic and beautiful room with lots of unique features. The only theme that ties it all together is the aesthetic and a desire for a comfortable, happy place for kids to live.
We asked Martina, graphic designer and writer of My Mid-Century Modern Life, about the process of designing a special room with her husband Jason for their foster children.
How would you describe the look and feel of this room?
Colorful, fun and eclectic. There is a loose color palette of blues and greens but no theme. It's a mix of new, vintage and handmade — just like the rest of our mid-century modern ranch.
What is your favorite piece or element?
I had been drooling over the blue SOMNAT crib from IKEA for a year before buying it but it hasn't turned out to be my favorite element. I love the little green nightstand. Refinishing it was a labor of love for my kids. Also, the blue guitar is very sentimental. Originally belonging to Jason's mom, it was the guitar he learned to play with and he's now a professional guitarist. He doesn't like displaying it but I think it's great!
What was the biggest challenge in decorating this room?
Creating a place that is fun, soothing and functional for two kids, either gender, with a 5 year age span in 110 square feet. How's that for a challenge! Jason and I love living in a modest size house because it pushes us to be creative with space planning and only keep things we love or use.
What was the best design victory for this bedroom?
Coming up with a solution for an area rug that's machine washable!
Do you have any advice for foster parents preparing a bedroom for kids?
Versatility. Flexibility. Creativity. A kids room should be fun and inspiring but with limited square footage everything needs to have a function, and the more functions, the better. For example, a dresser than can be used as a changing table, a crib that converts to a toddler bed, a twin bed that can be flipped into a loft or bunk.
What suggestions would you make for parents designing a unisex shared room?
Generally avoiding pink and purple seems to be the only restriction for not making a kids' room feel too girly. Let the kids' personal items like a favorite doll or firetruck give their space an identity. And just like with any kids' room, smart storage for toys is essential!
• IKEA Somnat Crib
• IKEA Ribba Wall Picture Ledges
• IKEA Kura Reversible Bed
• Rug: IKEA Toftbo Bath Rugs
• Petit Collage Animal Alphabet print
• Target twin sheets, lamp shade, curtain (shower curtain repurposed for window)
• Vintage and thrifted nightstand, full length mirror, crib bedding, xylophone, GeeWiz game, yellow lamp, reading chair
• Handmade mobile and throw pillow (by Martina), quilt (wedding gift from a friend)
• MOMA Color Wheel Clock
• French Paper Pop-Tone Monkey poster
• Paint: Sherwin Williams' "Ellie Gray"
Have you seen our Nursery & Kids Room Submission Form? In addition to working with some readers to feature full tours, we will also share the best as "My Room" posts on Ohdeedoh — short, quick tours of great rooms. Submit yours right here.