5 Designer-Approved, No-Reno Ways to Make Your Front Door More Accessible for Guests
We independently select these products—if you buy from one of our links, we may earn a commission. All prices were accurate at the time of publishing.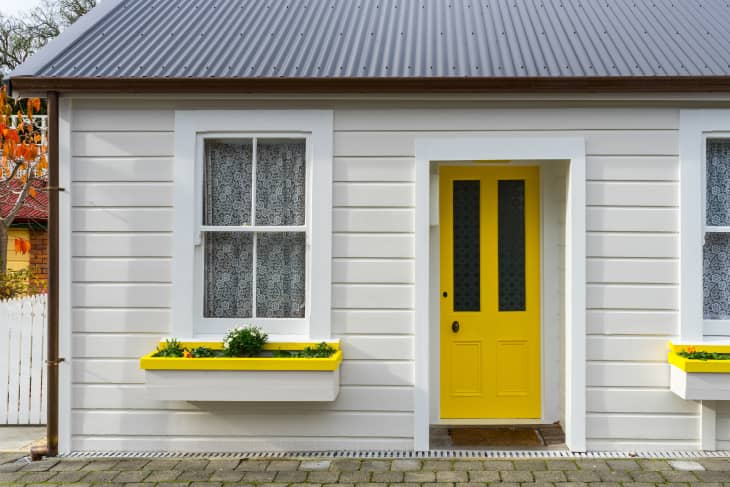 Moving about the world with mobility issues is always a challenge, whether it's climbing a set of stairs inside a building or crossing a street surrounded by them. But when the task at hand involves approaching a front door, a lack of accessibility can feel much more intimate. 
Follow Topics for more like this
Follow for more stories like this
"Getting through the front door is often overlooked when it comes to accessibility," says owner and lead designer of Blue Copper Design, Maegan Blau. "It is the first obstacle to face when being a guest in someone's home. Stairs, unpaved paths, door thresholds, uneven ground, and dimly-lit areas are all difficult to navigate when using an assistive device. Oftentimes, even parking in residential areas can take some strategic planning to determine how to get from the street up to the sidewalk and then to a home's entrance."
As a wheelchair user, Blau has personal and professional reasons for wanting disability accommodations to be a part of a property's overall curb appeal. "There have been plenty of front doors I have not been able to access, and it can deter me from going to new places. There is also a heightened level of anxiety when you don't even know if you can even get into the building where an event is. Being an interior designer, I am in and out of clients' homes, and that has been the biggest obstacle in figuring out how to grow my business."
Ensuring that there are minimal hurdles between a street and a front door isn't only a benefit to disabled people — of which one in four Americans identify (including this writer!). It also mitigates hazards for children, those aging in place, and anyone who happens to have the occasional clumsy moment. As is the case for elevators, curb cuts, and other public examples of inclusion, creating an accessible front door can benefit everyone. Here's how Blau suggests making yours fit the bill. 
For starters, know that people with mobility issues are experts on their own needs. 
When you're new to the world of accessibility, you may not know exactly what is needed in order for a loved one or acquaintance to feel comfortable in your space — and that's fine! The easiest way to calm nerves on either end of the equation is to politely ask for details. "Is there anything I can do to make sure you feel comfortable in my home?" is a starting point for a host, and keeps any awkward assumptions at bay. More often than not, this will create a conversation around what the disabled person knows best: themselves. 
"I am very upfront about my wheelchair, what I need to enter, and I ask questions to figure out the setup of the front door," Blau says. "And I always bring my portable ramp to new places. I have found that with some determination and a portable ramp, I have been able to enter 98 percent of homes. For the other two percent, we find another more accessible point of entry like a garage or patio door."
No one is asking you to call in a construction team to widen doorways before a party, just as you shouldn't expect a call from the ADA if things go awry (I'm joking, the ADA doesn't have a hotline). Usually, lending your arm for balance is all it takes for me, and Blau agrees that sometimes all she needs is an extra push. The best thing you can do is listen and be welcoming, as you would for any guest. 
"I have always been able to get the assistance I need to enter homes, and if anything, my experience inspires people to rethink the way homes are built when it comes to accessibility," Blau notes, adding that most people are willing to provide help when necessary. "A shift in perspective can make a huge difference when it comes to creating access for all."
Let your guests know where they can park. 
If you're throwing a party and expecting everyone who's invited to come by car, send a note to any disabled or older guests letting them know where to park. This lessens any uncertainty around how to get from the street to your door, and also helps to conserve energy for the actual fun. "It could be your driveway or the closest spot to a curb cut," Blau says. 
Even if there's a clear pathway to your front door, it becomes more treacherous at night when there's no lighting to guide guests. Without that illumination, it's easy for anyone to trip along an unfamiliar route. Before your party, double-check that any hardwired lanterns are in working order, and that your porch light is, too. 
Don't have anything bright lining the path? "There are a lot of solar-powered yard lanterns that can add some beautiful ambiance and prevent any accidents in the dark," Blau notes. It's wise to keep these details off the paved portion of the path, too, so your guests have as much room to move as possible. The same thing goes for potted plants, flowers, and other porch decor — make sure they're all out of the way.
Look to sliding doors as a potential entrance.
Many front entrances have stairs leading up to a landing, which certain guests might not be able to ascend — especially if the stairs don't have rails. If this is the case, investigate other options that may have a more level transition indoors. "Side doors, garage entrances, and back doors may be a safer point of entry," Blau says. If this is your best bet at your own home, be sure to casually include your guest on the plan. No one wants to feel like they're being snuck in!
Incorporate ramps for more familiar guests. 
Hosts who know that a guest with a mobility issue will be a frequent visitor should think about adding a ramp to this type of front door. "If you have one or two stairs, or a steep-door threshold, a portable ramp could be a great option," Blau says. "They are cost effective, fold up for easy storage, and come in many different lengths. You can find these on Amazon or other medical device retailers." 
It is also worthwhile to consider making a more permanent addition with help from the pros, if your budget allows. These days, ramps can be constructed to match the exterior flooring of your home so that they feel like an intentional design choice. "Integrated ramps are made to look seamless, and then you will never have to worry about creating an accessible entrance again," Blau says.