6 Things Experts Say You Should Never See in an Adult Apartment
We
independently
select these products—if you buy from one of our links, we may earn a commission. All prices were accurate at the time of publishing.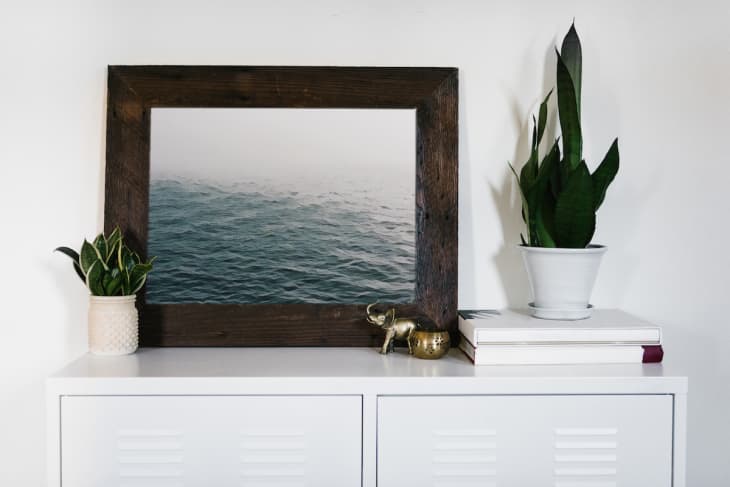 Even the most put-together place can give off a totally different feel when cluttered. And in that same vein, even the most adult-looking apartment can lose a decade or so in maturity when certain items are left out in the open. Whether it's that hella comfy chair you dumpster-dove for in college or that signed picture of *NSYNC you still keep on your wall, certain things just scream, "This is from when I was a smaller, more naive version of myself!"
While this is all well and good while living in a dorm or first apartment, once you move into a place you actually consider "home," it's likely you will want your space to give off more adult vibes when friends, family, and potential partners stop by.
Even if you want your Peter Pan-like personality to shine through in your space in the day-to-day, when it's not loved ones but potential buyers dropping in, the stakes are a little higher. While location might be the top factor in real estate, first impressions come in a close second: "You want your property to look and feel like a home, not a dorm room." says Michael J. Franco, an agent at Compass in New York City. Don't let potential buyers pass on your space because it feels like an RA could knock on the door at any time.
Franco's quick rule of thumb: Put anything away that you'd be embarrassed for a parent to find. Need more specifics? Here, six items New York real estate experts say scream College Dorm 101:
Note: Having any of these things in your apartment doesn't make you any less adult! But being an adult is also knowing there is a time and place for certain things—and sometimes, the place is not on display in your home. You don't have to necessarily say goodbye forever to these things—just keep them out of sight!
As marijuana laws change nationwide, Franco says he's actually seen more homeowners leave bongs out on the kitchen counter.
Much like how you should put away any religious or political items for showings since it may hinder a home's appeal for those with differing affiliations, you should put away smoking paraphernalia to make sure you're not unwillingly saying, "this home is only for those who are 420-friendly."
Even if you do not smoke inside your home, having items that say otherwise can cause potential buyers to distrust your claim that it's a smoke-free household—and potentially other factors on the listing, too.
On that note, drinking accessories like shot glass and beer bottle collections, can be keeping your space feeling more dive-y than distinguished, says Lisa K. Lippman, an agent at Brown Harris Stevens. While there's nothing inherently wrong with them, they might provoke unwanted connotations for buyers.
They can stick out, too, simply from a decor perspective. Sometimes, when an item is useful, it'll stick around—even if it doesn't necessarily fit in with the surroundings.
"One of my friends had a dart board, which was a nice decor item that served its purpose before we'd go out on the weekend," says Bryan Stoddard, who runs the home and design site Homewares Insider. "But, as time went on and the board stayed on the wall, it didn't look cool anymore and actually started looking out of place."
A tell-tale sign of a mature apartment? One that doesn't look temporary. That means not only having a place for everything, and everything in its place, but also that your furniture and organizing solutions feel intentional rather than haphazard:
"I've seen milk crates stacked as shelving for both books and clothing," says David Rosenberger, an agent with Douglas Elliman. "Skip it if you want your place to look grown-up."
A hastily-repaired anything
While it may not be your intent in the moment, provisional fixes can often bring more attention to a broken object than one left alone. And according to Gwendolyn F. Sinclair, an agent at Halstead Real Estate, potential buyers will gravitate to these well-meaning eyesores—and they might not be so understanding.
"Remove anything repaired with duct tape, wrapping paper (true story) or covered with a runner or scarf," Sinclair says. "Basically, if you couldn't sell an item as 'very good' to 'excellent' condition on eBay, it doesn't belong in your house."
Anything juvenile (outside of a kid's room)
While it's totally okay to decorate your home with your inner child in mind, you may want to think about how it may translate to potential buyers.
For example: Rubber duckies? Totally cute. Rubber duckies in the only bathroom as you're trying to sell a home? A little off-putting for buyers who might not be looking for family-friendly vibes, says Noemi Bitterman, an agent with Warburg Realty.
A bunch of collectibles that only you love
Again, your home is your space to let your freak flag fly! But be aware that many potential guests or buyers might take your everlasting (or even ironic) love for something out of context. While a collection of your favorite things may make you feel right at home, it may alienate unknowing guests.
"I remember one apartment that had four wall units containing a collection of Disney characters organized by which movie they were from that took over the entire living room," says Debra Hoffman, an agent with Halstead Real Estate "Another favorite: A life size statue of the butler from 'Rocky Horror Picture Show' in the entry hall. The statute had a tray where the owner dropped his keys every day."
And while your friends and loved ones may accept your obsessions, buyers might not be so open minded. Take this cautionary tale from Lisa Camillieri, an agent with Warburg Realty:
"I had a client who had a massive doll and stuffed animal collection in her bedroom that she refused to remove when we put the apartment on the market," Camillieri says. "Every single buyer, without exception, commented on how creepy it was. It took over six months to sell the place, even though the price was below market."
Anything else spring to mind? Sound off in the comments!
More great Real Estate reads: