This Affordable Fake Tree on Amazon Has 4.5 Stars and Over 2,000 Reviews
We
independently
select these products—if you buy from one of our links, we may earn a commission. All prices were accurate at the time of publishing.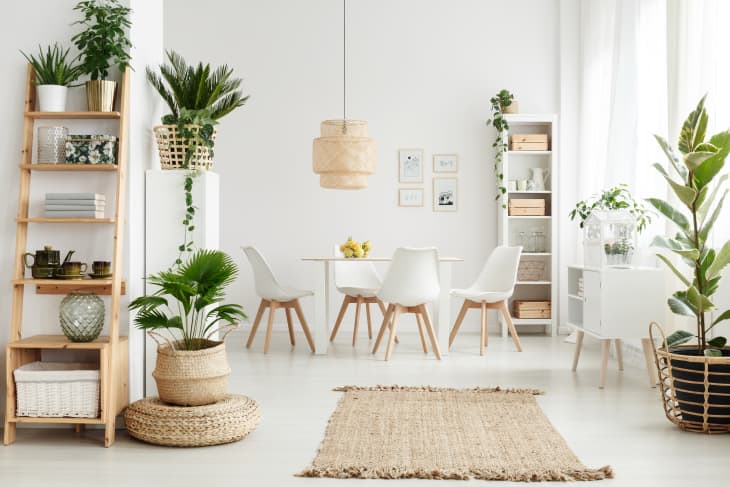 Artificial plants are a good way to add some greenery to your space without the risk of killing something (again). Especially when it comes to trees—if you don't have the light to support a big plant, faux is the way to go.
But big plants are usually big bucks. With over 2,000 reviews with 4.5 stars on Amazon with all the benefits, this six-foot tall fake ficus is pretty affordable.
Available in sizes from 36 inches to 96 inches, this Ficus reproduction will fit, no matter what your ceiling height. It comes in verdant and deep green, and over 1,008 "leaves" decorate the trunk and branches. Oh, and last but not least, no maintenance (translation: no watering or sunlight needed).
When shopping for a faux plant in general, you want to go for plants that have less variation in leaf shape to disguise any manufactured edges or paint discrepancies. It comes in the small "growers pot" pictured above, but you can put it in a larger pot and cover in real dirt to trick the eye a bit more. It allows you to dress it up in your style and look as close to the real thing as possible.
Reviewers who love it say it's a steal for the price, but it's probably not going to fool any detectives. "Now, if you get within, say 4 feet of the tree and are looking directly at it to determine if it is real or not, you can tell it is fake," writes one reviewer. "From any further away though, (barring someone with superhuman eagle eyes) it looks real. I love when I have a fan on, and the leaves move so naturally just like in an outdoor breeze." Another said, "I can tell it's not real, but it fooled one of my cats. It looks great for the price!"