The Last Thing to Do with Aluminum Foil Before Throwing it Away
We
independently
select these products—if you buy from one of our links, we may earn a commission. All prices were accurate at the time of publishing.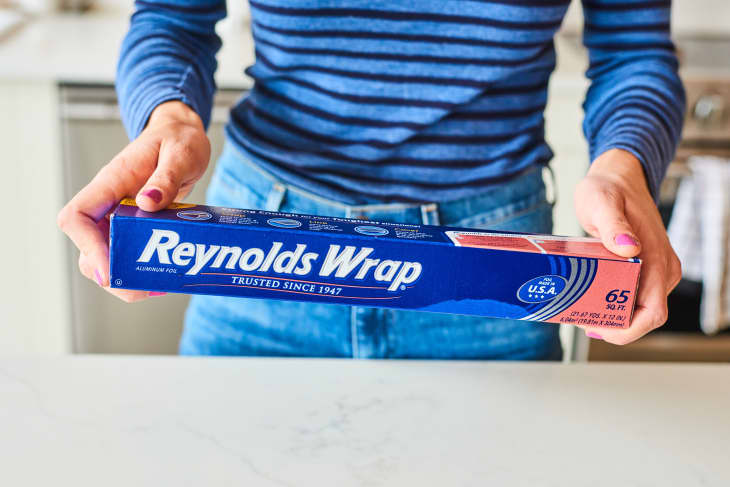 Aluminum foil is a staple in many kitchens. I use it for all the typical things, like tenting my roast chicken so it stays warm while the juices settle or covering my casseroles as they bake in the oven. I also use it to wrap breakfast burritos and, in a pinch, as a makeshift palette when my kids want to paint with tempera. 
But, similar to when I use plastic zip-close bags or paper towels, which have their place in my kitchen, I do feel uneasy about the waste that aluminum foil creates. While you can almost always recycle aluminum foil when it's clean, let's be real: Most people aren't spending that extra time and effort to scrub gooey lasagna cheese off of foil. 
The next best thing to recycling (and sometimes the better thing!) is reusing or repurposing something. Aluminum foil has so many uses (like my kids' art hack above). But my newest favorite is using it as a scrubber for messes that are baked onto glass or ceramic casserole dishes. (Don't do this on nonstick coatings.) 
I love that this hack works so well to get into the corners of casserole dishes and is good at scouring off cooked-on grease and food. (Sprinkle a little Bar Keepers Friend in there, too, for some extra scouring power.) But my favorite thing about using a wadded-up ball of aluminum foil is that I don't have to use my sponge or scrub pad to do it. 
I loathe sponges or pads with any kind of food in them because it promotes bacterial growth and grosses me out. I also don't enjoy cleaning bits of food (especially cheese!) out of sponges or scrub pads. When our sponges do get dirty, I toss them in the dishwasher, but using aluminum foil that I'd otherwise toss as a scrubber means I don't have to get my sponges dirtier than necessary or clean them! This extends the use of our sponges and saves us time and energy to boot. 
If you feel inspired to get as much use as possible out of your aluminum foil, here are some more ideas, in addition to the scrubbing hack. 
Line cabinets and drawers so spills are easy to clean. (Just replace the foil.)
Improvise a funnel or pastry bag. 
Line your instant pot, slow cooker, or air fryer. 
Soften brown sugar by wrapping it in foil and putting it in the oven. 
Toss a ball of foil in the dishwasher to get your silverware extra shiny.