If You Don't Have a Screened-In Patio, This Clever Mosquito Chair is the Next Best Thing
We
independently
select these products—if you buy from one of our links, we may earn a commission. All prices were accurate at the time of publishing.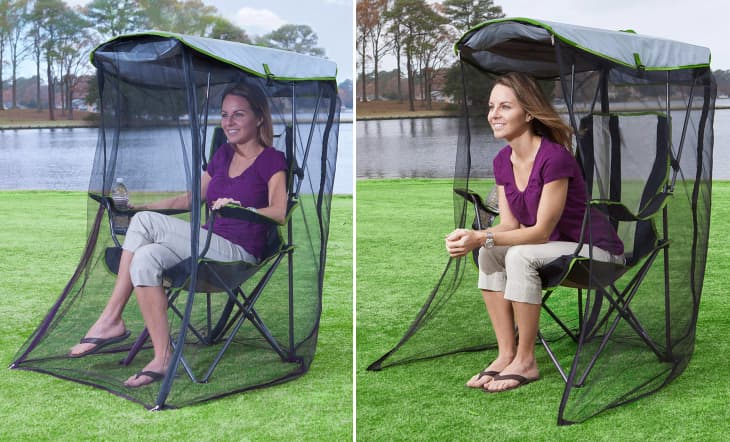 No matter how deep your love for summer runs, there's something most heat-cravers tend to agree on: Mosquitoes are the absolute worst. But since Mother Nature continues to unleash the bloodthirsty pests upon us every year with no sign of a reprieve in sight, we have to do what we can to protect ourselves from the insects' unwanted presence (and bites). In addition your repellant, citronella plants and outdoor incense, consider adding this nifty canopy chair with netting to your bug-battling arsenal.
Whether you're hanging out by a campfire, enjoying an outdoor concert or simply trying to avoid leaving the beach with a sunburn, the quad-style canopy chair by Swimways Kelsyus is a great multipurpose option. The steel-frame seat is foldable and features a sun canopy with 50+ UPF protection. The bug guard seems like it could get kind of cumbersome but thanks to the front zipper closure and bottom weights, it's designed to remain firmly in place and it reaches all the way down to the ground, granting full coverage from mosquitoes and sunlight.
When the chair is not in use, the net can be rolled up and securely zipped into the canopy, which functions as a pouch. Additionally, the canopy serves as a carrying bag. Simply fold it down, snap it together and use the adjoined shoulder strap for easy transportation.
The canopy chair also guarantees comfort and plenty of support by way of an ergonomic mesh seat that offers ample legroom. It can support adults up to 250 pounds, plus there's a cupholder for you to enjoy (bug-free) drinks.