This Game-Changing Amazon Find Organizes All the Sports Equipment in My Garage
We
independently
select these products—if you buy from one of our links, we may earn a commission. All prices were accurate at the time of publishing.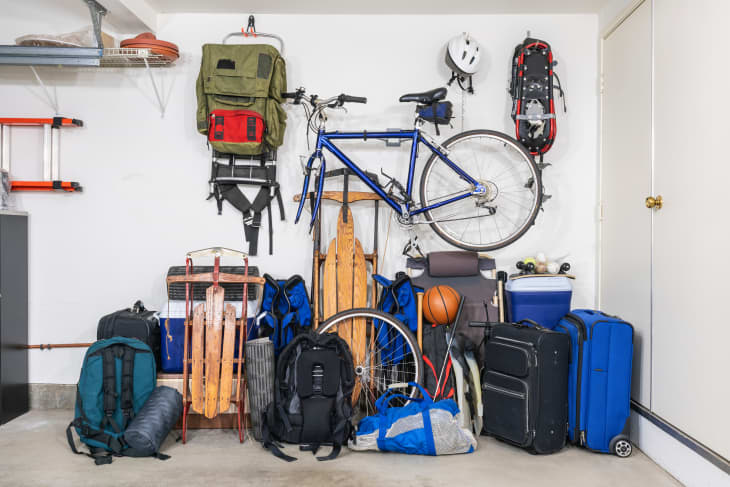 My husband feels pretty strongly about "having an empty garage" because he wants to build a ninja gym for the kids inside it (haha!), and I'm with him, mostly. A ninja gym sounds great, especially for all the rainy days we have here in Tennessee. However, I'm more interested in not having to face a disordered space where we toss all the items we don't know where to put.
In the attic, at least the mess is hidden (although for sure I want that area organized too!). The garage, on the other hand, is where we most often go into and out of the house and the thought of it being tidy and minimally full is appealing. There are still things we'll need to store in the garage, though, such as gardening supplies, bicycles, and the kids' sports equipment.
Actually, finding an effective way to store all the sports and outdoor gear has been an ongoing challenge for years. I've tried many things, including hanging helmets on S-hooks from wire shelves or bike handles, storing roller blades in plastic bins, and piling everything all together in large open bins. Nothing is easy for the kids to maintain and the balls and scooters and helmets always end up scattered pell-mell all over the place, much to their mother's exasperation. 
Building the unit took less than an hour (although we did make a mistake: the rubber band section for easy access to balls is backward) and putting our sports gear on it was surprisingly fun. We had to gather it from all the scattered places where balls and helmets and baseball bats were hiding in our (still a disaster) garage. But even the fact that the kids were excited to corral everything and that they already appreciate how neat and accessible all their gear makes me hopeful they'll be able and willing to maintain the system without my coaxing.
I'm amazed at how much equipment the rack can store in such a small footprint of space. The unit has replaced the roller blade bin, the racquet bin, and the ball bin. The rack can also fit those smaller sports items that tend to get lost and forgotten about, like frisbees and tennis balls. It even fits my boys' hoverboards, a skateboard, and a scooter — with room to spare. 
The very best thing, above and beyond the organization, this rack will bring to our garage is that it'll end up encouraging our family to spend more time outside engaged in physical activity. The rack has enabled us to access and use all the gear we've invested in and, ultimately, it helps support a healthy and happy lifestyle for our family.