The Trash Can Our Staffer Swears Solved Her Mouse Problem
We independently select these products—if you buy from one of our links, we may earn a commission. All prices were accurate at the time of publishing.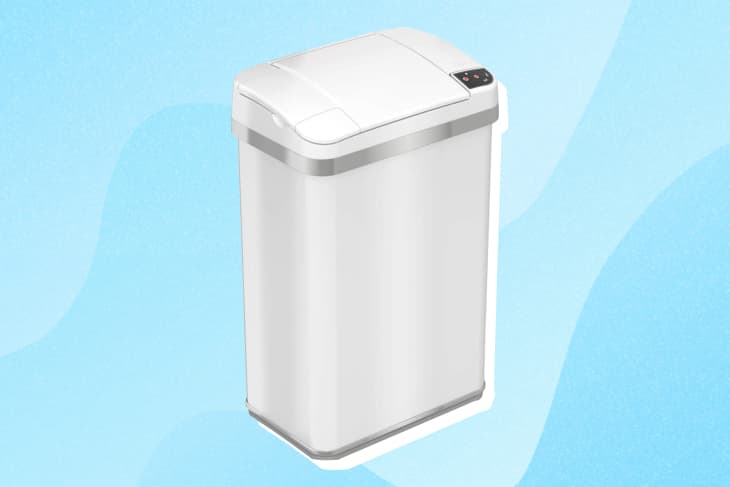 Here at Apartment Therapy, we love talking about artful design and trendy decor, but we're not afraid to discuss the less-than-glamorous subjects too, whether it be pet hair, fruit flies, or the somewhat taboo issue of household pests, namely: mice. Though we'd rather not admit it, mice are a fact of both city and country life, and even if you're meticulous about keeping surfaces clear of food, storing snacks in air-tight containers, and cleaning regularly, they still find a way to come out of the woodwork (literally).
Just ask commerce coordinator Emily, who became somewhat of a pest expert after tackling a pretty serious mice infestation in her city apartment. The problem began, she says, when she undertook a kitchen renovation after a downstairs neighbor moved out. "I started hearing noises like plastic moving around my house at night," she says. After ruling out the wind as a potential cause, she adds, "I walked towards this big garbage bag full of construction dump from the weekend and I found a baby mouse running around circling it." Despite sealing up holes in her walls, getting new storage containers, and even setting mouse traps, she kept getting unwanted visitors from her four-legged neighbors. 
Follow Topics for more like this
Follow for more stories like this

Luckily, Emily was finally able to solve her mouse problem, and it only took a simple upgrade to her trash disposal routine. Her solution: this motion-sensor trash can from iTouchless that's so popular it has an impressive 4.3-star rating and over 2,500 reviews on Amazon. 
The trash can's automatic sensor is powered via a wall outlet or batteries (you choose) and opens slowly with a wave or gesture, so you can dispose of messy or sticky trash without having to touch anything. When the lid closes, a rubber gasket creates a very tight seal that traps odors inside and, more importantly in this case, keeps mice out. After all, these tiny critters can infiltrate spaces as narrow as a pen.
Plus, unlike flip-top or open trash cans, the iTouchless can't be breached by dogs or other nosy pets. One reviewer who keeps one in her kitchen and bathroom raves, "I already had one in my kitchen, but my dogs kept going into the bathroom and knocking my old can over. They cannot get into this one! The motion detection is perfect and it is so easy to clean." While another reviewer adds, "with a normal trash can, you touch something dirtier to get rid of dirty. With this, it goes from dirty to clean straight away. It brings so much satisfaction."
In addition to the tight-fitting lid, the iTouchless comes with a built-in filter and lemon-scented fragrance cartridge that keeps food packaging and other stinky scraps smelling fresh. Some reviewers say it does such a great job keeping odors at bay, they even use it to dispose of dog and cat waste. The trash can be easily wiped clean, and both the stainless steel and white options have fingerprint-resistant surfaces. 
And while four gallons might sounds a bit small, for Emily that's part of its appeal. "There are many different types of motion sensor trash cans but very few that were this size." For comparison, she says, "This is bigger than a tabletop food compost bin but much smaller than a tall trash can. I have a tiny kitchen so I wanted something that was just right for small spaces." Plus, the size is an extra layer of assurance that you'll empty your trash frequently and avoid luring in any more unwanted visitors.
Since using her new trash can, Emily reports no new sightings of her resident mice, saying, "I haven't seen any since!" Of course, she's also taken some mouse-controlling measures, such as using a peppermint oil diffuser and wiping down her sink at night. She says it's also important to cut off all sources of food and hydration, "otherwise they keep coming back." 
So if you're dealing with a mouse problem, don't fret. Start with the basics and consider getting this trash can. Bonus: It costs a lot less than a visit from a pest control company!