This $15 Amazon Find Saves Me Cabinet Space and Makes Me Smile Every Morning
We independently select these products—if you buy from one of our links, we may earn a commission. All prices were accurate at the time of publishing.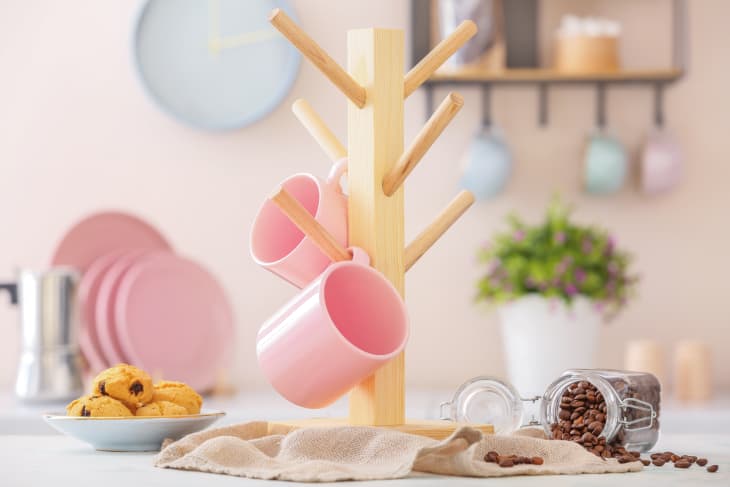 You can tell a lot about a person based on the coffee mug they drink out of. Think about it — they hint at your travels, your personal aesthetic, and even a little about who you are.
Follow Topics for more like this
Follow for more stories like this
My personal collection is a mix of colorful designs, a mug that has the description of what an Enneagram 4 is (since I'm a type 4, of course), a few cups with positive affirmations on them, and a variety of holiday and souvenir mugs. Each of them means something different to me, and I'll choose one based on how I'm feeling. It's always been a fun part of my morning ritual — that is until I moved into an apartment with minimal counter and cabinet space, and no room for a coffee station. 
My tiny kitchen forced me to get creative, and I ended up placing my coffee brewer on a leaning desk on the wall closest to the kitchen. It felt weird having my mugs in a cupboard while the coffee brewer was across the room, so in an effort to keep them close by, I purchased a mug tree. It ended up being too big for a spot on the desk, so in another act of small-space living creativity, I kept the mug tree in a glass door cabinet closest to the brewer. To my surprise, it looked beautiful behind the glass, and seeing my mugs displayed brought a smile to my face every time I walked by them. It was a happy accident, but I ended up creating a really pretty piece of decor.
I now live in a home that has ample kitchen counter and cabinet space, but hiding my beloved mugs behind closed doors doesn't seem right anymore. My mug tree now lives right beside my coffee brewer on the kitchen counter, and my coffee station couldn't be cuter. I believe that anything on display might as well be decor, and why hide something you love if you don't have too? 
Even if you don't have strong feelings about mugs, displaying them can elevate the look and feel of your kitchen. Not to mention, if you're short on cabinet space, a mug tree is a great way to maximize cabinet real estate for drinking glasses, bowls, or plates.
My husband and I are still finding places to store things since we moved, and our cabinets now house a few vases in addition to our plates and bowls. I love that my mug tree frees up some space, doubles as decor, and makes my coffee station even more beautiful and personalized.