This Smart, Cordless Amazon Fan Is Keeping Me Nice and Cool Through This Balmy Chicago Summer
We
independently
select these products—if you buy from one of our links, we may earn a commission. All prices were accurate at the time of publishing.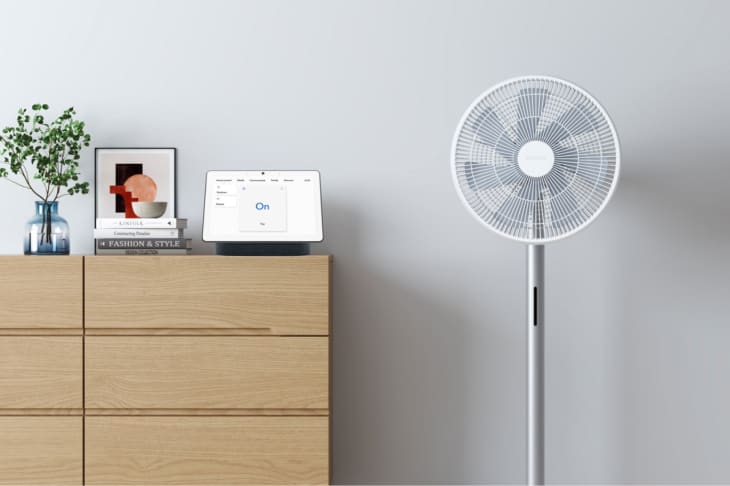 Every design lover without central air goes through the same struggle each summer: How do you stay cool without destroying your aesthetic? Rickety box fans, boxy window units, and clunky floor fans all seem to be a necessary evil, especially when temperatures creep toward the triple digits. If you're looking for a stylish swap to your utilitarian pieces though, I suggest throwing the Smartmi standing fan onto your shortlist.
I got this compact fan at the beginning of this summer, and it replaced my behemoth box fan that stood like a blight in the middle of my living room. That thing was squat, made out of black plastic, and roared as it spun its blades, making me put my TV to a permanent volume level of 75. Despite being a total eyes sore, it kept me cool though, which was my top priority during the humid Chicago summer months.
I'll admit that when I first saw the Smartmi standing fan, I was a bit skeptical. Much like many aesthetic vacuum cleaners, blenders, and frothers, I wasn't sure if it would last longer than a few months before short-circuiting or burning out. I gave it a go though, and it has become a staple in my apartment for several reasons. 
First, I love that it's compact. Standing just a little over three feet tall, the Smartmi standing fan blends in with my white-walled space rather than sticking out — a nice perk considering I sometimes like to put it in the middle of the room rather than tucking it into a corner (which you can see below). Second, it's smart and app-controlled, where you can adjust everything from its oscillating angle to its wind level via your phone or voice control. That's very convenient when I'm couch potato-ing and don't want to stand up. Additionally, it's cordless, so you can easily move it around a room. For example, if I move from working on the couch to the dining room, the fan follows me with little fuss.
The thing that sold me the most about this fan? The Smartmi standing fan is whisper-level quiet. The deafening roar of my last fan is now replaced by the Smartmi's soft whir, thanks to its noise-canceling technology, which honestly deserves a Nobel Prize. It just quietly hums next to the couch, whisking the balmy air away. It checks all of the boxes of a quality fan, all while looking stylish.