I Asked 5 Self-Proclaimed Sweaty People How They Survive the Summer Heat — Here Are Their 4 Coolest Tips
We independently select these products—if you buy from one of our links, we may earn a commission. All prices were accurate at the time of publishing.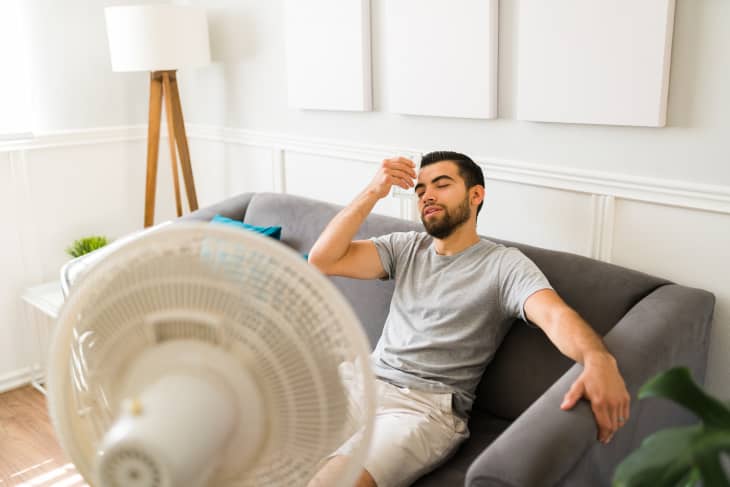 Recently, I came across a tweet that shook me to my core. The brave, profound, voice of a generation user questions why our culture romanticizes summer, a season that actually… kind of sucks. The constant sweat. The scorching sidewalks that scald your bare feet. The infernal heat waves that cancel outdoor plans and melt your ice cream instantaneously. 
Follow Topics for more like this
Follow for more stories like this
"Adulting" as a verb is far less tolerable when the summer heat comes into play. It's a cinch to be carefree in the 90+ degree weather when you're not simultaneously working from home without air conditioning, or managing your post-commute sweat in the office, or running errands, or paying bills, or trying to figure out how taxes work — all the while fighting off your own incessant sweat. 
If you're someone who, like me, struggles to stay cool in the summer and keep perspiration at a minimum, you need to add some new tips and tricks to your routine. I spoke to some self-proclaimed sweaty folks who shared their expert guidance on staying dry in the summertime. 
Prep Your Body Before Leaving the House
Chicago-based advertising strategist by day and comedian by night Nate D. is no stranger to sweat. Whether running off to perform at an improv show or grabbing whatever takeout his pregnant wife is craving, Nate's always on the go. And being on the go means being sweaty — but it can be managed!
Nate recommends adding a time buffer before leaving the house in warm months. An ideal time to do this is right after showering. "Give yourself a good half-hour after the shower to walk around without a shirt, keep the towel handy, and dry yourself off as you reach a stasis temperature that's non-sweaty," he says. 
For me, getting ready for a function or outing involves a quick shower and blow drying my hair — but doing that back-to-back basically nullifies the work the shower did to erase my sweat in the first place! Budgeting more time to gradually allow the body temperature to adjust will aid in keeping perspiration at bay.
Nate adds, "If you have a lot of time to kill, go stand outside for a little bit before you have to leave since usually you start sweating because of the shock [of the temperature] to your system. If you get a little pre-sweat before you have to go, your body will get used to it and you won't be as sweaty when you get there."
Reconfigure Your Home Cooling Setup
Pittsburgh native Abby O. is no stranger to a toasty apartment. Throughout her twenties, she bounced from one urban inferno to the next, picking up new methods of beating sweat along the way. Her recommendation? Be smart about your home cooling setup.
Says Abby, "It's nothing fancy, but I use an AC unit and then close any doors to rooms I'm not cooling. Then I use fans to direct air from cooler spaces into hotter spaces." Take a tour through your home and check out the airflow. Determine the best ways to harness the breeze for good, and devise a way to channel that air throughout the home. 
Don't forget, cutting off some spaces from cool air will help trap that chilly goodness in the main spaces. "For a long-term strategy, curtains in doorways would work well," Abby suggests. If you have a room that you rarely use, don't waste the breeze on it!
You can double down on cutting out unnecessary heat by blocking out that big heat machine in the sky. Abby recommends that "old classic of closing curtains so your home isn't a literal greenhouse." Turn down the lights, block the rays out any way you can, and prevent your home from becoming a glorified terrarium. 
You might also consider keeping a sweat station stocked in and near your freezer. Keeping ice cubes handy is a must. California-native James D. reaches for a cube when he needs a quick cool down. He recommends "an ice cube to the inside of your elbow and neck." Blood vessels are closer to the skin near the elbow, neck, and groin area, so cold compresses work quick wonders when applied there. You can also store towels, a couple pairs of socks, and your pillowcase in the freezer for those especially rough nights.
Stock Up on Sweat-Blasting Supplies
There's a plethora of supplies you can keep stocked that will prevent sweat from putting a damper on the day. Obviously, the skincare aisle has a handle on the situation. Says Nate, "I do have a sweat-absorbing face lotion that I'll use for auditions." Does it work? "I definitely felt more confident and less sweaty," he confirms.
Not all antiperspirants are as effective as some cult favorites. Says Abby, "I highly recommend Lume. It's a natural deodorant that kills bacteria so [you don't] smell like low tide." Plus, a deodorant like Lume can safely be applied all over your body, because we're all covered in sweat glands!
Cleveland-based Kristian G. prescribes readers apply "Peppermint oil on the back of your neck." Pick up a bottle at your local health food store and pop it on whenever you could use a natural cooling sensation. 
It's not a bad idea to stock up on your favorite sweat-supplies and keep them handy. Have a car? Pop MegaBabe Thigh Rescue in the glove compartment. Toss a travel-sized deodorant into your handbag. Nate recommends just packing a whole dang towel: "I carry one that has Gatorade logos all over it because it makes me look like a big-shot athlete."
Choose Comfort Over Conceit
Look, at the end of the day, sweating serves a critical function in maintaining our bodies' health. Some of us sweat more than others, and in the grand scheme of things, none of this really matters. While I definitely find myself feeling embarrassed from time to time by sweat stained clothes or my makeup melting off my face, I'd rather be safe and healthy than perfectly matte.
Sometimes, that means changes to your look. "I do cut my hair shorter in the summer which I do think helps eventually, but immediately your body isn't used to that change and you still sweat even more," Nate says.
Lifelong Arizonian Nicki P. recommends a few products that at first look a little, well, silly. She's talking: cycling helmets with visors and brims (wow!) and portable neck fans (okay!). As much as these products might look like something an amateur inventor would put together in a backyard shed, Nicki attests that down in the American Southwest, they're getting used. "I've seen the bike helmet hat a LOT," shares Nicki. And the 4,200+ positive reviews back up Nicki's observation.
Everybody sweats, period. Find what solutions make you feel better about bouncing from AC to AC this season, and lean in. But don't forget, it's okay and normal to glisten! Focus on enjoying yourself and try not to sweat the small stuff.