I Tried That Stylish Air Conditioner with the 30,000-Person Waitlist and It's Totally Worth the Hype
We
independently
select these products—if you buy from one of our links, we may earn a commission. All prices were accurate at the time of publishing.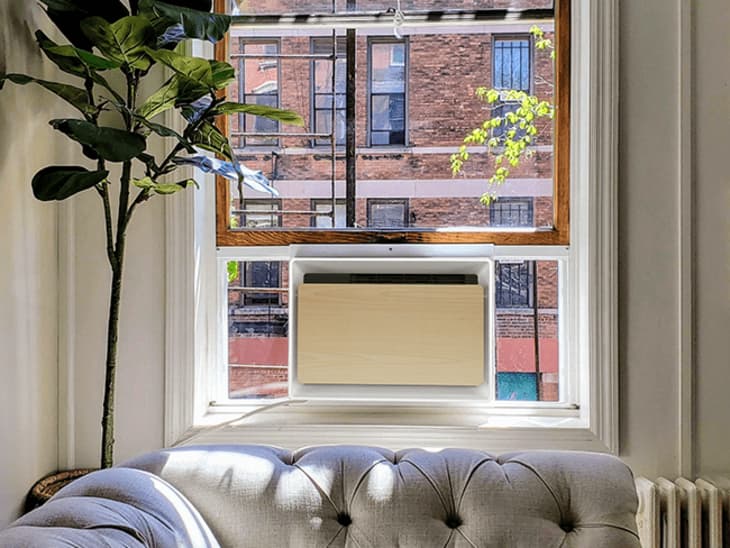 The heat has arrived, and while the month of July is still few days away, the air conditioner brand of the same name just dropped a long-awaited restock that's equally as hot. So, I'm about to let you know exactly why the July A/C is the current one to beat on the market, starting with its competitors. Be it for their enormous price tags, visual obtrusiveness, or distracting sounds, I'd not willingly brought an A/C unit into my apartment before discovering July. Yes, I was in fact keeping my clothes in my refrigerator summer after scorching NYC summer, but I did so happily knowing there wasn't a loud A/C battling it out with my carefully curated symphony of soft jazz and candle flickering. Now that I know I don't have to sacrifice my sanctuary for the sake of cool air, I'm pleased to report that if you align with my (rather spirited) opinions on old-school window A/Cs at all, you're going to love July.
The brand pretty much confronted all the main issues I'd come to expect of traditional window A/C units, first by offering a range of magnetic covers which diffuse sound and look good doing it. You have the option to adorn your A/C with a matte color, premium material, and even limited edition 3D designs. The white linen cover is sleek and elegant and allows me to continue changing up my living room decor around it without anything clashing. But since the covers are as low as $30 each, I plan to grab another to experiment with another look. July also carries insulating panels that easily slip on either side of the A/C — perfect for winter when you don't have any place to store it — and clear plexiglass panels which allow more access to your view and the sunlight.
Okay, okay, so it looks good. And it's customizable. But does it work? Let me start with installation. A July installer comes directly to your apartment to set up your A/C unit for you, white glove-style. When I watched it all go down in my own living room, I realized (and confirmed) that I could easily do it myself if I ever need to. Keep in mind any regulations your building and city have when it comes to self-installing window A/Cs, but if you're in the clear I can tell you this is a game-changer when it comes to removing and reinstalling your July as-needed. Personally, I don't plan to…even when the temperatures drop.
July's A/Cs are available in two different sizes and strengths: 6,000 BTU (or British thermal units, a measurement of A/C effectiveness) for smaller rooms and 8,000 BTUs for larger rooms. The 8,000 BTU, or Medium, size cools my snug, maze-like 2-bedroom apartment completely, unfazed by the multitude of walls and halls it has. You can opt for your A/C to also have an air purification function, making July's a do-it-all solution when it comes to air quality. July's donation program makes it even easier to want in on one of their A/Cs. When your July is delivered, not only will the team uninstall your current unit to reinstall your new one, they'll also haul it away for you. All working A/C units are kept and donated, which was facilitated through East Side House Settlement in 2021.