8 Tiny Houses You Can Actually Buy on Amazon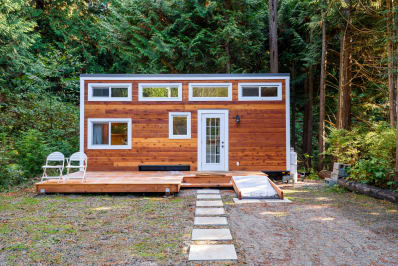 (Image credit: ppa/Shutterstock)
Amazon is a little bit like the Sears Catalog of the 21st century: You can buy practically anything on there. Books, cleaning supplies, groceries, furniture: you name it, they have it. And now (just like the Sears Catalog) you can actually buy an entire house from Amazon. Yes, Amazon sellers will deliver an entire tiny house right to your door.
Here's a bit of a caveat: You probably won't be able to move in as soon as your (very large) parcel is delivered. Some of these are kits, which require assembly, and the purchase of additional finishes, to be livable. Many of the homes require a foundation, and they all require electrical and plumbing hookups of some kind, so do your research before purchasing. Also keep in mind that local permitting laws may limit where you can place your tiny house.
Ranger Cabin Kit by Allwood, $19,990 and free shipping
This is one of those aforementioned kits, a petite little Swiss-chalet type setup with 259 square feet downstairs and a 168-square-foot loft, reachable by ladder. According to the seller, the house can be assembled in about two days by two adults with minimal tools. While there is a bathroom and a kitchen depicted on the floor plan, you'll need to provide your own fixtures for these: You'll also need to provide roof shingles and a foundation.
Bella Cabin Kit by Allwood, $17,800 and free shipping
This little home is well provided with outdoor space, although, mysteriously, not with a bathroom. The small room downstairs, off the kitchen, could be modified to serve as a bathroom in a pinch.
The Sommersby has an appealing modern design, and for a whole house, it's really very reasonably priced. That 174-square-foot floor plan unfortunately does not include a bathroom, so if you're planning on living there you'll have to find somewhere to shoehorn one in (and build an enclosure for it, as this model has no interior walls).
The Cozumel by Titan Park Model Homes, $64,900, plus $4,800 shipping fee
Unlike the Allwood models, which are kits, this tiny home appears completely ready to go. Everything you need to move in is included, except for the furniture. The house measures 399 square feet, which includes one bedroom, one bath, a generous outdoor space, and what looks like a very spacious kitchen. Unfortunately, the houses currently only ship to Texas, New Mexico, and Oklahoma, so if you live outside of those three states, you're out of luck.
The Kemah by Titan Park Model Homes, $51,500, plus $4,800 shipping fee
Although it's the same size as the Cozumel, this one is slightly cheaper. It also has a bedroom, kitchen, bath, and a spot for an optional washer/dryer, although the same shipping restrictions apply: It can only be delivered to Texas, New Mexico, and Oklahoma.
The pictures of the interior are a bit sparse (and there's no sign of the promised "Outside pressure treated wood deck and awning"), but this does appear to be a real-deal tiny house, with everything that you would expect in a traditional house, including a combination washer/dryer. At only eight feet wide, it's rather trim, but the two sets of French doors mean the interior is nice and bright.
Timber Frame Cabin Kit by Goshen Timber Frames, $59,321, plus $4.49 shipping fee
At 729 square feet, this home is not quite tiny, but it's definitely on the small side. The $4.49 shipping fee seems like a real deal, and the loft actually looks tall enough to stand up in. The description of the product indicates that it's "ready for siding, roofing, windows/doors, and interior fixtures and finishes," which seems to imply that none of that is included. So if you do decide to buy this charming cabin, be sure to budget accordingly.
Of all the Allwood houses, this one comes closest to what we typically think of as a "tiny house." It can be built either freestanding or on a trailer (not included), and it even has a tiny sleeping loft, which is not included in the square footage total. For that price I think I'd opt for the Sommersby, up above, but if what you desire is a tiny house that you can take along with you on your adventures, then this might be just the ticket.
More Popular Tiny House Posts: