The Truth About Rental Dishwashers, According to Real Estate Agents
We
independently
select these products—if you buy from one of our links, we may earn a commission. All prices were accurate at the time of publishing.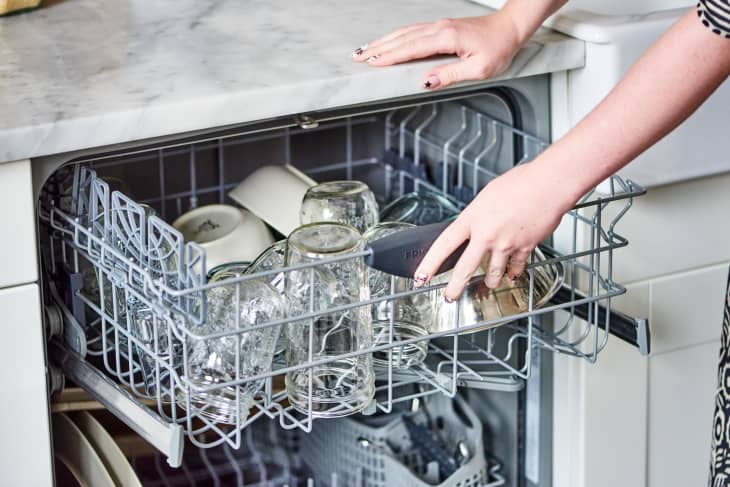 The last rental I lived in technically came with a dishwasher. But even though I thoroughly pre-rinsed my dishes before loading them, they'd inevitably come out of the dishwasher poorly cleaned, with specks of food clinging on. I'd call maintenance. Maintenance would come and tell me they couldn't find a problem with the appliance. Rinse and repeat. 
Midway through the lease I gave up on the dishwasher altogether, and chalked the problem up to the machine being dated or cheap—or both. In recent years, though, dishwashers have become fairly uniform amenities in many apartments, with renters coming to expect the appliance, real estate agents say. But renter beware: Dishwashers can be an overrated selling point, especially if you end up with one like mine.
In some cases, dishwashers can jack up rent prices
Depending on its brand, a dishwasher can increase the cost of rent. It all comes down to the quality of the appliance and how quickly your landlord or property management company wants to recoup the investment.
Think of it this way, says New York City-based real estate agent Karen Kostiw of Warburg Realty: A dishwasher on the lower end costs about $300, so a landlord could recoup the cost of it within a year by increasing rent by $25 a month.  For a mid-tier apartment with a brand name, the financial outlay is $650, which could translate to an increase of $54 a month. For a high-end rental, the cost of a top-notch dishwasher is $1,500, which could drive rent up $125 a month. A good dishwasher should last about 10 years, Kostiw says. So, it's possible the landlord would spread that cost out over several years.
"All in all, landlords who invest in a better quality dishwasher will find that the system breaks down less, which means fewer complaints from tenants," she says. A pricier brand equals an increase in rent, yet not so many headaches in the long run.
It's worth comparing prices in your neighborhood
If you want to find out how much more an apartment with a dishwasher rents for, Shawn Breyer, a real estate investor with Breyer Home Buyers in Georgia, recommends comparing rental listings online. Sites like Trulia, Rent.com, and Apartments.com have an option to filter results  to include rentals with dishwashers. Filter the search to show houses that have similar bedrooms, bathrooms and square footage. Once you have these criteria, filter the search with and without a dishwasher and compare prices, he says.
Will having a dishwasher really make or break a place?
To forgo a dishwasher altogether is to commit to hand-washing your plates the old-fashioned way. For some, that's not a big deal.
Tancy A. Mason-Phillips, a landlord and real estate agent in the Columbus, Ohio, area, says she doesn't have dishwashers installed in her rental units because they are too costly to maintain. 
"Having a dishwasher or not doesn't seem to bother most renters," she says. "I haven't found that a tenant doesn't rent a unit because there's no dishwasher, but moreso because of another reason, like layout or bedroom size."
If you're considering a rental without a dishwasher—and you'd really not prepared live without one—you also can try to negotiate the installation of one with your landlord, suggests Sadika Mrkulic, sales agent at DJK Residential in New York City.
In her opinion, the amenity has become the new norm. 
"I couldn't imagine renting without one today," she says.