Yes, Audiobooks Count as Reading — Here's Why You Should Add Some to Your Reading List
We independently select these products—if you buy from one of our links, we may earn a commission. All prices were accurate at the time of publishing.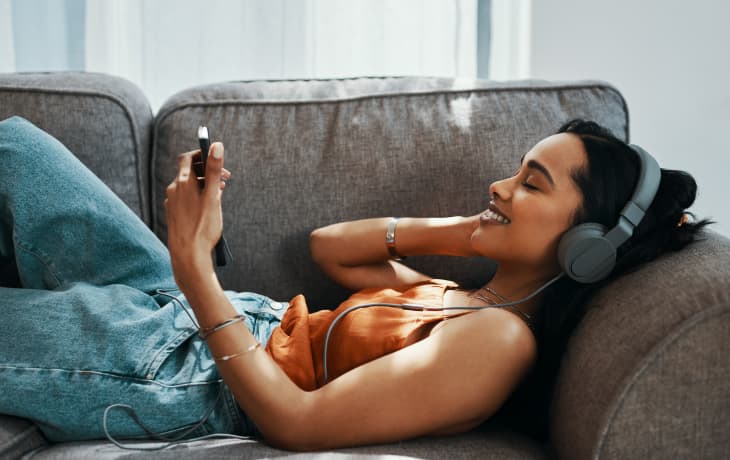 Social media can be a minefield of controversy, which is why I do my best to follow people who only post cute doggie photos, hilarious videos, and reading recommendations. #Bookstagram, that subset of Instagram where book lovers post about all things literary, is one of my happy places.
Follow Topics for more like this
Follow for more stories like this
So imagine my surprise when I unwittingly wandered into a conversation about audiobooks that quickly turned into a heated discussion — albeit a civil one amongst well-read individuals — about whether audiobooks "count" as reading.
My opinion? They sure do. I respectfully disagree with those who believe that unless you are holding a book (or tablet) in your hands, it doesn't count as reading. 
Even though I consider myself a visual learner, I find audiobooks to be a wholly satisfying experience. The words don't just wash over me like song lyrics or podcast chatter. I have found that I can discuss listened-to audiobooks in depth with others who have read the physical version, so I know the author's words are sinking in.
A Different Version of the Reading Experience
"Listening to audiobooks is the same as reading, because you still have to listen word-for-word to make up the narrative," says Louisa Smith, editor and founder at Epic Book Society. "Listening to an audiobook requires the same level of attention as reading — if you miss a few sentences, suddenly the whole book might not make sense." 
I've found this to be true, and I won't tell you how many times I've gotten distracted and had to hit the back button on my phone when I'm listening. I equate it to zoning out while reading a physical book and having to turn back a page to reread.
"The act of digesting a story is different [with audiobooks], but the skills you use are the same," Smith says. "You still need to form sentences in your head and create a picture of the story; it's [just] coming to you from a different medium."
Catherine Wilde is a life coach, author of the book "Reclaim Your Inner Sparkle," and founder of SoulCareMom. As a busy working mother who homeschools her children, she doesn't always have time for the "luxury" of reading physical books, so she relies on audiobooks, particularly nonfiction ones that will continue to develop her abilities.
"The experience is different, admittedly," says Wilde. "But when absorbing nonfiction in particular, if the audiobook in question is narrated by the author, the experience is magical and even ethereal."
I agree. While I do listen to a lot of fiction, I also like books about entrepreneurship and personal growth. It's energizing to hear the words come straight from the author's mouths. (Pro tip: I bump up the reading speed a bit, and the authors sound urgent and even more empowering!) I'm also on a celebrity memoir kick of late, and when given the option to read Pete Townshend's book detailing his years with The Who or hear him read it in his melodic British accent, which do you think I'm going to choose? 
Literacy and Accessibility
Not everyone has the ability to read physical books, which is another reason I'm in love with audiobooks.
"Listening to audiobooks can be a richer experience, but it also engages different senses, and that makes it great for accessibility," says Tanja Hester, award-winning author of "Work Optional: Retire Early the Non-Penny-Pinching Way" and creator of the Our Next Life blog.
"Though I love reading books, I often struggle to sit down and read, something I learned is connected to my ADHD," Hester says. "But I can easily get immersed in audiobooks, and I now read many more books this way." She also notes that she has friends who have dyslexia and also find audiobooks to be more accessible.
"Anyone who gets snobby about audiobooks not being 'real books' is completely ignoring the vast majority of human and literary history, in which most people 'read' by having stories or lyric poems told or recited to them," Hester says. "It's a fairly recent phenomenon for most of the population to be able to read!"
Peter Cox, author, literary agent, and founder of Litopia (the world's oldest online community for writers) agrees. "I'm constantly telling writers not to become entirely fixated by the written word," he says. "The oral tradition predates writing, obviously. Audiobooks are simply a continuation of that."
Don't Knock it Until You Try It
Still put off by the word "read" when it comes to audiobooks? Then let me swap in the word "consume" instead. I happily consume books, whether they are print, digital, or audio. Although they are calorie-free, books in every form are part of my daily diet. 
If you haven't tried one of the audiobook platforms out there, allow me to recommend my favorite, LibroFM. When you sign up for an account, you can choose an independent bookstore to support with each purchase. (I proudly support Books Are Magic in Brooklyn, NY).
Everyone is welcome to their opinion. But whether I turn to the last page of a book or listen to the last seconds of its audio version, it is ready to be checked off my to-be-read list.
"Even with higher literacy rates now, gatekeeping what counts as reading only does harm," Hester says. "Audiobooks are great, and so are graphic novels and anything else that give people multiple ways to engage with written work."