I'm a Lifelong Book Lover — Here are 5 Reasons I'm Now an Audiobook Person, Too
We independently select these products—if you buy from one of our links, we may earn a commission. All prices were accurate at the time of publishing.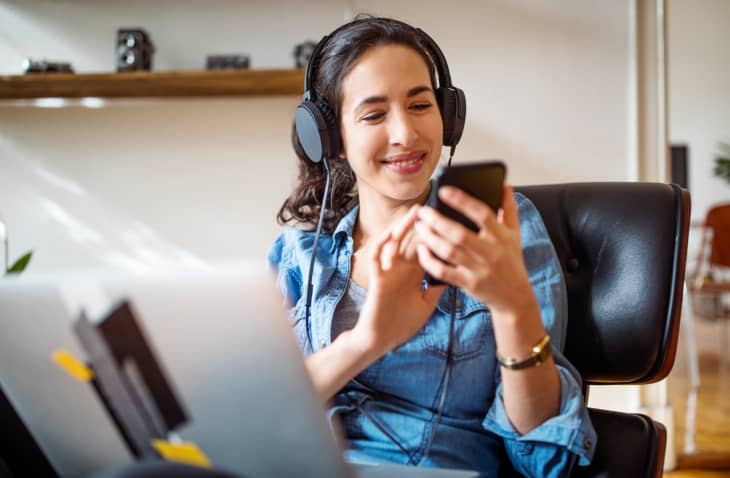 As a lifelong bookworm who made her career in book publishing, you can rarely find me farther than a few feet away from a book. Although airline weight limits pushed me to get a Kindle years ago, I've always preferred the weight of a physical book on my lap, the pages curled gently around my fingers. That all changed last year, along with the world as we know it.
The audiobook market has expanded in recent years, though the genre that makes reading more accessible to millions of people has been around for far longer. Despite their growing availability and fandom, you don't have to look far to find someone who questions whether listening to an audiobook "really" counts as reading. Not only is that ableist, I've always believed it doesn't matter what or how you read, just that you read. Even so, it took me longer to try audiobooks for myself. All I can say is — what took me so long? Here are a few of the reasons I'm now an audiobook person:
Audiobooks can help you create more time for reading.
When COVID-19 swept through New York City in March 2020, my day-to-day reading opportunities disappeared along with my social life. I was no longer able to breeze through a few chapters each morning on the way to the office, as a way to unplug every night before bed, or as I waited on friends running 15 minutes late to brunch. All I did was work and panic; there was no space in my life for books.
Audiobooks brought reading back to me by weaving it into the activities I was still doing. Cleaning the apartment constantly now that I work from home? I'll put on an audiobook while dusting. Grocery shopping for the apocalypse? Audiobook time. Working out in my tiny apartment? I crank up that audiobook and dream of being in a group fitness studio. 
Audiobooks have helped me open myself up to new genres.
I've been an aspiring nonfiction reader for as long as I can remember, but despite my best intentions — including a largely ignored New Year's resolution — I've stayed firmly in the fiction aisle since college. In the past, I've picked up a well-reviewed history book or award-winning biography, only to gravitate towards one of the many unread novels in my apartment not long after. 
Nonfiction makes up 100 percent of my audiobook listening, and there's a big reason why I've found more success with that format. In the same way that podcasts helped me to be more on top of current events because I could catch up while going to and from work, audiobooks made genres like psychology, sociology, and world politics accessible to me because I can do other activities while reading them. Much like how doodling helped me to focus in school, doing a mindless activity like cleaning the kitchen or walking to the subway while listening to an audiobook helps me to stay engaged with its content. I only wish I'd had an Audible account in high school.
You can often hear the book in the author's own voice.
Because some audiobooks are also recorded by the same people who wrote them, it's possible to literally hear their own words, and engage with the work in a unique way. As I've expanded my audiobook experience, I've gravitated toward recordings read by the authors themselves, including works like "Hood Feminism" by Mikki Kendall, "Minor Feelings" by Cathy Park Hong, and "The Sum of Us" by Heather McGhee. It's a privilege to hear someone tell their own story in their own voice, and that privilege is available to anyone willing to press download and do the work. 
Not all audiobooks are recorded by the book's author, so check the credits before buying it — but rest assured, authors are still paid for both ebooks and audiobooks!
Audiobooks make switching between works incredibly convenient.
For years I've marveled as my mom juggles three books at a time, ping-ponging back and forth between whichever narrative she feels like slipping into. Me, I've always been a one-book girl, content to cozy up beside the same story every night until it's time to move onto the next.
It took time to get used to closing "The Startup Wife" by Tahmimia Anam, walking out the door, and immediately hitting play on Danielle Henderson's memoir "The Ugly Cry." Over time, however, moving from one narrative to the next and back became easier. By swapping between mediums, I'm finally able to read two books at once, meaning I don't have to miss out on the comfort of fiction while working my way through a different genre simultaneously.
You always have a book with you.
There are few things in this world I fear more than being stranded without reading material. I once brought four novels on a friend's three-day bachelorette trip, and that felt dangerously light. But the days of shoving a paperback into my purse are over now that I can listen to a book on the subway on the same device I take with me everywhere (my phone!) 
Though audiobooks have been around for decades, listening to them finally clicked for me when I started thinking of them as their own entity. I'm still taking a paperback novel to the beach to lose myself in any one of the fiction sub-genres I'm drawn to, but I'm also vacuuming to books by critics, theorists, and memorists. It's been refreshing to engage with books in a wholly new way after a lifetime of reading, and I know I've only scratched the surface of what this medium has to offer. Perhaps audiobooks are just what you need to breathe new life into your reading routine too.