The Real Estate Trend That Hopefully Ended in 2022, According to Agents
We independently select these products—if you buy from one of our links, we may earn a commission. All prices were accurate at the time of publishing.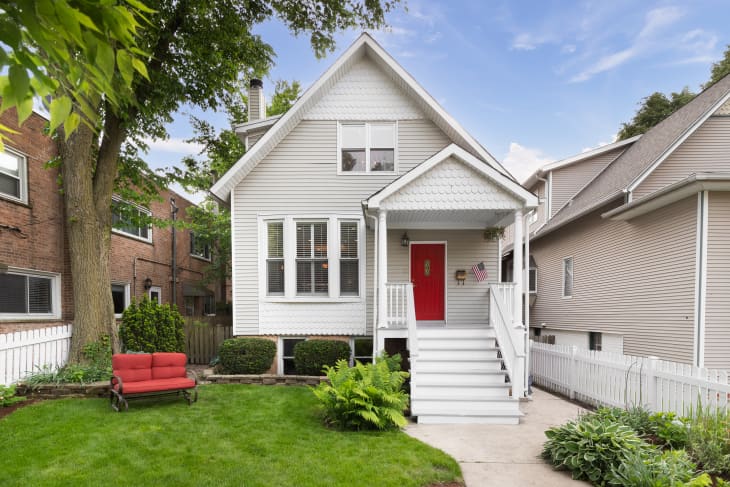 In recent years, any time a house hit the market it seemed as if a stopwatch would start clicking. Offers would fly in immediately, and due-by dates appeared to be code for, "This is going way over listing price, don't even think about requesting an inspection."
Follow Topics for more like this
Follow for more stories like this
But in 2023, that likely won't be the reality. There's one major trend that some agents believe dug its own grave: Buying a home sight-unseen. 
The days of fuzzy FaceTime tours and crossing your fingers that the photos weren't hiding cracks in the walls and stains on the carpet are likely finished. Instead, thankfully, there's time to actually think about one of — if not the biggest — purchase a person can make. 
I got in touch with four agents about why this trend is dying out, and what the change says about the future market. Here's what they had to say. 
Buyers are Taking a Breath
Yun notes that while there continues to be a lack of inventory, most buyers are willing to look at other properties that could fit their needs — or even reassess their needs all together. They no longer have to settle for the first property that comes up. 
"We're starting to hear that there is a sense of buyer's remorse across the country. You may find that those highest on the list of being remorseful were the ones that purchased 'sight-unseen'," says Yun. 
There Will Be More Inspections
A couple found their dream home, Haley Cutter, founder of Cutter Luxe Living by Compass, told me. It was originally built in 1805, and offered the period details the buyers were searching for in an ideal location. 
They'd lost out on previous homes, so Cutter was determined to not let this one slip by — even if she couldn't get both of them there to see it. However, the key to buying sight-unseen is transparency, communication, and trust. There can't be assumptions and gray areas. Cutter says, "When the wife asked if anything needed to be replaced, my quick answer was, 'Yes. Everything.'"
Cutter says, "I'd expect that in 2023's real estate environment we will see fewer and fewer sight-unseen purchases, as well as more home inspections and contingencies." But, she sees an upside to this trend. 
"The COVID climate normalized video tours and a sight-unseen purchase is more imaginable today," she adds. "We are all more comfortable with technology and have a better understanding of its merits in certain situations."
Sight-Unseen May Continue With New Construction
"Buying sight-unseen can be a tricky proposition for many. It requires having a trusted team of advisors in the mix," says Nicole Beauchamp, Global Real Estate Advisor and Licensed Associate Real Estate Broker with Engel and Völkers New York City. And it's not entirely new to the real estate world — but it was certainly new to residential resale properties. 
Previously, she'd often seen buying sight-unseen occur when overseas clients purchased property in high-end developments. "I think that the potential of buying sight-unseen with new construction will continue, but for resales less so," predicts Beauchamp. 
But Overall, There's Finally Time to Think 
Khaliyah Heaven Barakhyahu of New Canaan Properties, LLC has a horror story about buying a home without seeing it in-person first. "A family I represented finally found the perfect home," she says. "It was in the area they wanted, the price was right, and it was only three years old. The pictures were great and they thought it would be in great condition." They didn't want to miss out during the height of the market and made an offer sight-unseen, while also waiving the home inspection to increase their competitiveness.
The competitive offer won — and the family was in for a soiled surprise. Barakhyahu describes the property as being "atrocious," saying that it had "stained carpet, worn flooring, and holes in walls." This house had seen a lot in its three short years, and the family signed up for a renovation they didn't know about.
Thanks to rising interest rates slowing the frenetic pace of the market, this hopefully won't happen to more people. "Buyers now have time to think about their purchase," she says. "They can ask for home inspections and consider other contingencies while making a reasonable house offer."