I Tried The Reusable Bamboo Paper Towels "Shark Tank" Made Famous — Now I'm a Believer!
We
independently
select these products—if you buy from one of our links, we may earn a commission. All prices were accurate at the time of publishing.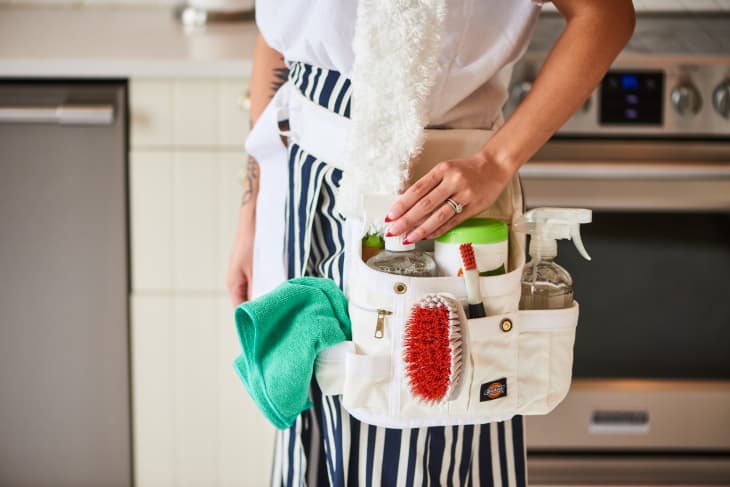 When it comes to wiping down counters or cleaning up spills, I usually choose between two options: a paper towel and a microfiber cloth. But tearing off a paper towel, while convenient, always comes with a tinge of wasteful guilt. And while my microfiber cloths are guilt-free and far more absorbent, I only have a few, and I don't always feel like running downstairs to grab one of my clean ones in the midst of a mess. 
It's not a high-stakes conundrum, but it's an all-too-common one. Recently, I discovered what I hoped could be the perfect happy medium in Bambooee Paper Towels. This is a roll of washable towels made from bamboo, which first found fame on "Shark Tank" and now has endless glowing reviews on Amazon (including a five-star rating across 70 percent of those reviews). 
What makes these towels so special? First, there's the environmental aspect: One roll of Bambooee replaces up to 286 paper towel rolls, because you can wash each individual towel up to 100 times. Plus, the brand plants a tree for each roll that's sold, so you're actually doing something positive for the environment by using them. They're also super convenient to use. You can put the roll on your paper towel holder, but rather than tossing the towel afterward, you can rinse it, let it dry, and use it again. 
I was sold right away on the planet-saving and convenience aspects of this roll, but I have to admit, I wasn't convinced of its effectiveness. So, I was pleasantly surprised to find that these towels were a lot sturdier than I expected — much more difficult to tear or damage and much more absorbent than the paper towels I normally buy. 
As one example, I used a cloth to clean dirt off my kitchen counter after I repotted all my houseplants, and it not only cleaned that mess but stayed usable for the next one, too. Now, you might be wondering why I don't just use a regular washcloth, which is fair. These towels, like microfiber, are lint-free and much more compact, so you can fold them up and reach into smaller spaces. They also don't smell musty after use like cloths do, which for me is reason enough to make the switch.
This is the only potential downside I can think of: Unlike microfiber cloths, these don't fully pick up germ and debris, so you'll need to pair them with a cleaner or disinfectant for extra oomph. But I guess that's the beauty of them, too — these cloths are so sturdy that you can use them with an all-purpose spray, rinse them, and then use them again. 
I've had my roll for a few weeks and I've only used a handful of towels, which I think is impressive. Bambooee also sells thicker cloths for floors, and I can't wait to try those on my Swiffer. All in all, I totally understand why Lori Greiner on "Shark Tank" gave Bambooee a deal. These cloths are sticking around my kitchen for the long-haul. 
This piece is part of Green Week, where we're talking about ways to make eco-friendly choices and contributions at home. Head over here to read more!