What Makes Microfiber So Good at Cleaning (And Sanitizing — Even By Itself!)
We independently select these products—if you buy from one of our links, we may earn a commission. All prices were accurate at the time of publishing.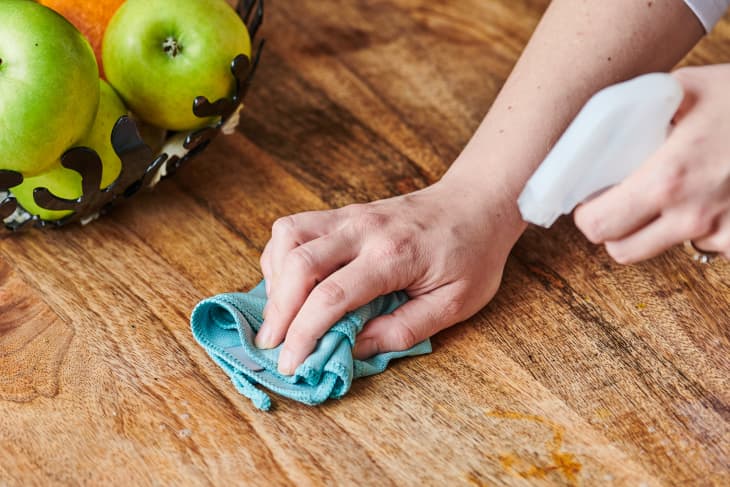 Before microfiber, I used paper towels. Not only was my go-to cleaning method totally wasteful on its own; I also spent a ton of money on cleaning products — most commonly, all-purpose sprays, disinfectants, and glass cleaner. The end result? Less money, a barely-clean house, and a guilty conscience for wasting all that paper and plastic.
I've since learned of a better way: I recently invested in a multi-color 24-pack of microfiber cloths, which I reuse over and over again when it's time to touch up or deep clean. I appreciate saving the planet (washing with a microfiber filter bag) and my bank account by reusing the same cloths. But my favorite thing about microfiber is how well it works for pretty much any job I can think of — and all without any products. (Yes, even for sanitizing!)
Here's why it works so much better than cotton or paper: Microfiber is a synthetic fiber consisting of polyester, which adds towel-like structure, and nylon, which provides absorption and density. While microfiber is sometimes used for furniture and clothes, it's also commonly used for towels — and pro cleaners and scientists alike agree with my assessment that the material is an amazing way to clean and sanitize, even without products. 
It's all in the material. According to Ana Andres, co-founder of the London-based cleaning company TidyChoice, microfiber cloths contain millions of tiny fibers (hence the term "microfiber") that have a slightly positive charge to attract grime and dirt. "These fibers are chemically split which allows them to act like little shovels picking up whatever is on the surface you are cleaning," she says. 
Practically, that means rather than simply moving dust, dirt, and germs around on the surface, microfiber actually picks those things up (not to mention liquid spills). That also means you may not need accompanying products for an effective clean, or even for sanitizing jobs — Simcox says microfiber's properties also make it a superior tool for germ-removal.
Microfiber isn't only for wiping down counters. You've probably also noticed lots of mopping systems use microfiber, too — and yes, they're also far superior to cotton alternatives. According to a 2002 study from University of California Davis Medical Center and the Environmental Protection Agency, using microfiber mops instead of traditional cotton loop mops results in a 99 percent reduction of bacteria. Plus, they're way lighter and more ergonomic than traditional mops, and you won't need to dunk them in water constantly or risk contaminating your cleaning solution. 
More good news: Research from the University of Massachusetts suggests microfiber mopping systems use less water because they're more absorbent, so they're better for the environment than other options.
So if you're still using cotton (or paper) rags or lugging around a cotton-loop mop, now's the time to make the switch. Your pocketbook, your home, and the planet will thank you. (Don't forget to use a microfiber filter in the wash, though, to avoid microplastic pollution.)