5 Tips for Making Cleaning the Bathroom Easier
We independently select these products—if you buy from one of our links, we may earn a commission. All prices were accurate at the time of publishing.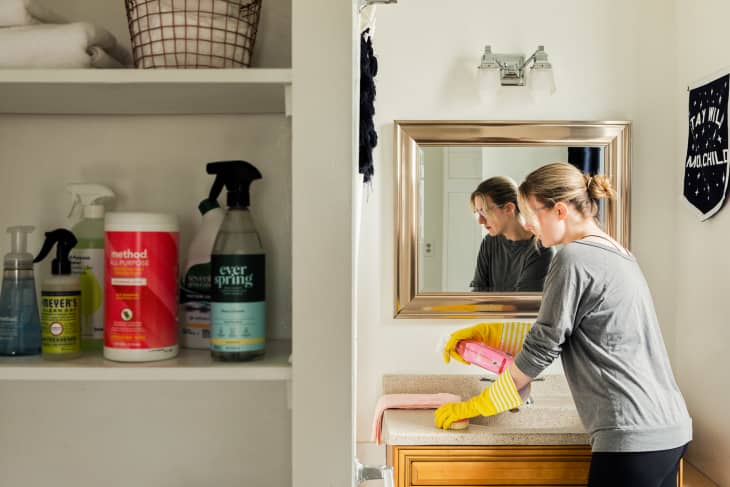 Growing up, one of the things I most underestimated about being an adult is just how much cleaning can suck. I'm not talking about tidying, organizing, or re-fluffing pillows until your living room looks just right for Instagram—that stuff can be fun. What I mean is the gross stuff, like cleaning the bathroom. For years, I've been haphazardly cleaning the bathroom, always simultaneously dreading the experience and feeling like I could be doing a better job.
Follow Topics for more like this
Follow for more stories like this
So, I turned to the experts to get their best tips and tricks to make cleaning the bathroom as efficient as possible. 
Have supplies on hand so you can spot clean ASAP.
"Store disinfectant wipes, glass cleaner, and a spray bottle of all-purpose cleaner in your bathroom," suggests Lee Sheridan, franchisee and owner of Two Maids Virginia Beach and Two Maids Chesapeake. "This way you have the supplies you need to spot clean quickly. Toothpaste splatters don't have a chance to dry on the mirror, water doesn't stick around long enough to make a moldy mess around the sink. Added bonus: your bathroom is always drop-in guest ready." 
2. Keep a dedicated cleaning drawer or caddie.
While we're on the subject of cleaning supplies, it's also good idea to clear a drawer or dedicate a caddie to your bathroom cleaning supplies, including sponges, gloves, and a microfiber cloth. For starters, you probably wouldn't want to use most of them anywhere else. And it's nice to keep everything tidy and contained, so you have them within reach at all times. Bonus points if there's room to keep a small vacuum nearby, says James Conner, VP of Operations for Molly Maid, a Neighborly company.
3. Fight Shower Mold Before It Appears 
If you haven't encountered shower mold yet, you should know that taking a preventative approach is much easier than cleaning it after the fact. 
"Regularly wiping down surfaces and drying them off after a shower is a good idea," Conner says. "Also, leaving the shower door or curtain open to allow airflow will help a lot." And, if your bathroom has an exhaust fan, run it to make sure humidity doesn't linger.
4. Never let the floor stay wet. 
Not only is a wet bathroom floor hazardous, "it also creates makeshift glue for hair and dust," Sheridan says. "Once that stuff is dried on, it's stuck on your floor until you decide to mop it up." His advice? Spot dry after you get out of the bath or shower. "This will help you avoid a nasty fall and a hairy dust bunny."
5. Use your shower squeegee every day.
Something that both Conner and Sheridan suggested was getting very familiar with is your shower squeegee. "Make a shower squeegee your new best friend," Sheridan says. "Use it at the end of every shower to keep hard-water deposits from building up on shower doors."