This Editor-Favorite Coffee Subscription Service Launched a Buzz-Worthy Valentine's Day Gift Collection
We independently select these products—if you buy from one of our links, we may earn a commission. All prices were accurate at the time of publishing.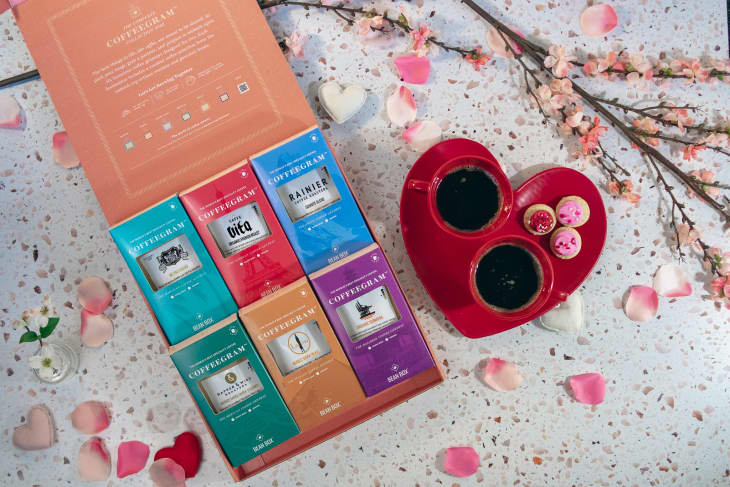 While there are so many amazing coffee gifts to buy for your java-loving partner, we might've just come across the best caffeinated idea for Valentine's Day this year. Enter: Bean Box. The coffee subscription service is an editor-favorite, offering beans from small-batch local roasters across the country and delivering them right to your doorstep. Just in time for Valentine's Day, they've announced the Bean Box Coffeegram Collection, a tour of six "coffee getaways" inspired by the most romantic destinations in the world.
We trust Bean Box when it comes to not only delivering delicious coffee but also crafting an entire experience. For instance, their holiday advent calendar is always filled with cozy wintery blends that just make the season even better. So we know that this special-edition box of coffee escapes is sure to provide a unique date night (or morning!) idea, perfect for any java-loving pair. All you'll need are your favorite coffee gadgets and a pair of mugs to enjoy these delicious brews on Valentine's Day.
Inside each collection box are varieties of coffee inspired by six romantic getaways, including Hawaii, Paris, the Swiss Alps, Mexico, Italy, and Bali. And, to make matters even sweeter, each coffee comes with a handpicked gourmet treat to enjoy alongside your cup. For example, the Hawaiian roast, called A Sip of Paradise, tastes like a blend of smooth coffee and cacao with hints of blood orange and mango. It's also paired with chocolate from the award-winning Maui Ku'ia Estate Chocolate. 
While you can order the entire box for all six varieties, each flavor and treat getaway are also available for $7.99 each. Just like the rest of Bean Box's roasts, you can choose between whole beans or ground, knowing that you're receiving a bag of freshly roasted coffee, packaged right in Seattle and shipped directly after. Each bag contains 1.8 ounces of coffee, perfect for four to six servings.
Whether you're planning on gifting this to your other half or best friend, these Coffeegrams are guaranteed to brighten anyone's morning. After all, who wouldn't want to start their day feeling like they're strolling the streets of Paris or laying on a sunny beach in Bali?