I've Been a Back Sleeper My Whole Life, and I Finally Found My Goldilocks Pillow
We independently select these products—if you buy from one of our links, we may earn a commission. All prices were accurate at the time of publishing.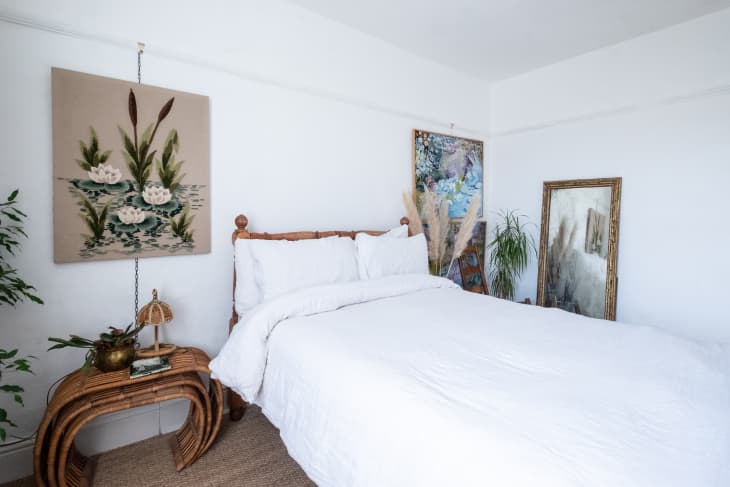 For as long as I can remember, I've been a back sleeper: eyes to the ceiling, arms at my sides, legs straight out. And, I've never had any trouble snoozing; I sleep like a log (because of my "clear conscience," according to my folks) and turn into an "immovable corpse" when I'm out (according to my girlfriend). The only issue I ever have is when I have to sleep in a bed that doesn't have a firm, supportive pillow. Whatever your pillow preferences are, you know what I'm talking about — those feathery, ultra-light ones that have your head hitting solid mattress as soon as you lay down. No matter how many times you fold them, fluff them, or stack them, a good night's sleep is just not in the cards when you're working with low-quality gear. Luckily, I've had some good luck with supportive pillows of my own, and while I'm a big fan of DTC sleep brands including Casper, Purple, and Earthfoam, I've recently found my Goldilocks pillow in the Bear Pillow. 
I've been a fan of Bear for a while — their mattress is really comfortable and has a ton of support — but until a few weeks ago, I hadn't had the chance to try their pillow. It's got a great 4.5-star average review on the site and features a bunch of high-tech properties that meld to make a comfortable, supportive pillow that doesn't feel too stiff. (Plus, right now you can score 35% off your purchase with code FRESH35.) The Bear Pillow is layered with a special "Double Ice" fabric that helps it stay cool throughout the night, and the mesh corners help with airflow so the pillow breathes more effectively. It's also hypoallergenic and anti-microbial, which I've found actually does help me sleep at night, especially this time of year — aka Allergy Season — when I'm tossing back Claritin like Tic Tacs (Read: Don't do that) and sniffling my way to odd stares from everyone in my office desk-clump. 
Look: Not everyone is perfect a back sleeper, and that's okay! But for those of you that are, the Bear Pillow is tough to beat. My biggest beef with other foam pillows is that they're either too firm (which feels like you're sleeping on a wooden log) or too soft (which is nice for a second, before your head sinks down to the mattress and the back of your neck starts to prune from all the sweat). The Bear Pillow, on the other hand, stays cool all night long and walks the perfect tightrope of soft and firm — comfy enough to lull you to sleep; supportive enough to properly cradle your noggin. And, folks, you deserve to have your noggin cradled! Stop settling for whatever crusty, once-white pillow you got years ago that's now a deflated, yellowish shell of its former self. 
And, I'm not the only one who digs the Bear Pillow. "My sleep has improved so much since I purchased my Bear pillow," one reviewer writes. "It keeps me cool at night and has just the right loft for me to be comfortable. No more waking up with a stiff neck. Highly recommended!" So, if you're looking to upgrade your sleep gear, get a better night's rest, or (looking at you, recent college grads) make the jump to having more than one flat pillow on your bed, you can't go wrong with the Bear Pillow. Just make sure you act fast and snag it while it's still on sale!