This Hammock Helped Me Discover a New (Perfect) Way to Relax
We
independently
select these products—if you buy from one of our links, we may earn a commission. All prices were accurate at the time of publishing.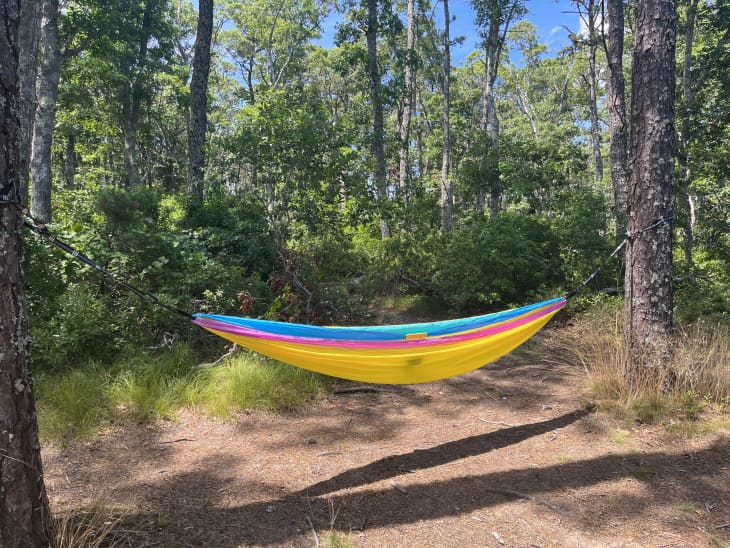 While swaying in a hammock overlooking a saltwater pond on Cape Cod last weekend, I asked myself something: "Why doesn't everyone have a hammock?"
I'd relaxed in hammocks before, but it was only recently that I got one of my own. I'm not sure how I ever lived without this perfect invention — this piece of fabric that allows me to feel weightless among the trees whenever I please.
My bright yellow, pink, and blue model from BearButt is a delight. For one, I love the colors. It feels like every hammock I've seen for sale at an outdoor store is a shade of dark blue or green. Secondly, it's compact. It folds up right into its own little pouch, with a second small pouch to hold the hammock ropes and carabiners. This comes in handy when I want to throw it in my backpack on a hike. But I usually keep the pouch tucked in the trunk of my car for impromptu laying-down-sessions. 
That's just what I did last weekend while taking a gentle walk along that pond: I scooped the hammock out of my trunk, slipped it in my bag, and set out in search of the perfect vista to set up in front of. It was only a few minutes into my walk when I found two trees, perfectly spaced apart, to hang up my floating nature bed (aka hammock). 
I quickly read a tutorial online about the best way to hang up a hammock, and then I got to work wrapping the straps around those trees. It took two trial and error periods before I got the hammock at the perfect height, and after that, it was smooth sailing. I gently rocked in my brightly colored sling for hours, looking out over the pond, and sometimes, just straight up at the trees. It was only minutes after laying down that I realized I'd discovered a new way for me to relax. Who needs to plunk a chair down in the sand on a crowded beach when I could laze around here, with only the sound of birds chirping to lull me into a nap?
I want to clarify something: I realize hammocks are nothing new. In fact, they're actually quite old. But as someone who loves to be outdoors (I wrote a hiking guidebook after all), I'm always on the lookout for new ways to enjoy nature. Sometimes, a solitary session among the trees is just what I need to recharge my batteries. My BearButt is my new favorite thing, and I look forward to latching it onto many more trees in the years to come.