Before & After: A Budapest Flat Gets Its First Facelift in 70 Years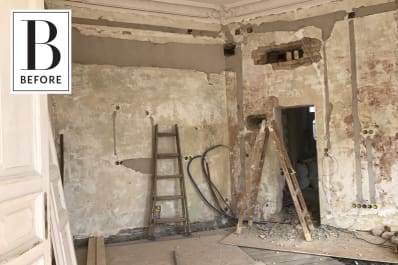 (Image credit: Szilvia Farkas)
Szilvia's stunner in Budapest has all of the classic charms of a turn of the last century European apartment. With drool-worthy high ceilings and large windows, Szilvia knew she could create a sleek, light-filled space to design to her heart's content.
(Image credit: Szilvia Farkas)
From Szilvia: The flat is situated in a classical building of the early 1900s in Budapest, Hungary. It was in a very bad condition when we bought it, everything including the electrical and plumbing system had to be changed. We bought a flat in such bad condition on purpose, because we wanted to create something special using imagination and creativity.
(Image credit: Szilvia Farkas)
I designed the whole apartment myself, from the placement of the power sockets and switches, to the last prints on the walls. We hired professionals for the renovation work of course, but no interior designer or any other designer. The whole renovation took seven months, including the Christmas period and the very cold winter of 2017 when the renovation had to stop for a couple of weeks. It felt like it took a lifetime, although on the other hand, the time passed so quickly!
(Image credit: Szilvia Farkas)
The most interesting surprise was that we found newspapers dating back to the Second World War, which means there weren't any changes made to the apartment since then!
(Image credit: Szilvia Farkas)
(Image credit: Szilvia Farkas)
I love every part of the apartment, it looks much more spacious with the light walls. I love the mix and match, how the modern and antiques work really well together. There are minor things I would change; I would probably buy a round dining table.
(Image credit: Szilvia Farkas)
Szilvia's words of wisdom: People say I was really brave with the eclectic style, but everybody who has seen it so far was amazed. Having the confidence to mix styles will give you a unique result!
Thank you, Szilvia!