Before & After: A Dated Kitchen Gets a New Look Without The Hassle of a Big Remodel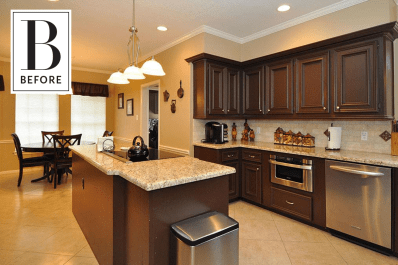 (Image credit: Listing Agent's Own )
Angelica's kitchen was functionally fine, it just felt a little cramped and generic for her tastes. With some smart DIY projects, a few cosmetic upgrades and the help of the always reliable white paint, her kitchen looks like an entirely new space without the headache of a full remodel.
(Image credit: Listing Agent's Own )
From Angelica: The kitchen in our new Houston, Texas home was in good condition overall, nicely sized with newer appliances, plenty of windows and decent light fixtures. However, it felt dated and dark and looked just like most kitchens in the area.
(Image credit: Listing Agent's Own )
The kitchen benefited from new hardwood floors that were installed throughout the house, but it was the small and relatively inexpensive changes that brightened the space: the walls and cabinets were painted white, the brown sink was replaced with an identical white one and the old backsplash was taken down and replaced with new tile.
What gave character to the new kitchen was:
1. The new decor - an impressive wall of baskets, silver items that add luxury, beautiful objects collected over the years and fresh fruit on display
2. Small do-it-yourself projects to make life easier and prettier - pull out basket and pull out drawer, picture ledge, wine cabinet remake, dishwasher kick plate fix
3. The selection of colors and materials - wicker, wood, soft browns, green and whit).
As the kitchen eating area is connected to the formal living room, it was important to create a sense of continuity from one space to another. Although the budget was very limited, the few changes turned the kitchen into a bright and cheerful place.
There are a few more things that I would like to change, the countertops, the light fixtures and the cabinet pulls, but that is for the future. For now, I'm very very happy with the new kitchen.
Thank you, Angelica! You can see this project and more on Angelica's blog, Once Again, My Dear Irene.