Before and After: A Windowless Bedroom Finally Sees Some Light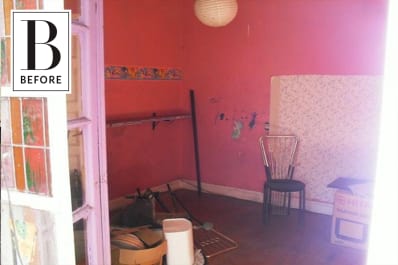 (Image credit: Maximiliano Sanguine / Fernando Diez)
Fernando and Maximiliano bought a classic house in the Buenos Aires neighborhood of La Boca. It had great architectural bones, but the building had been neglected for years. Every room needed tons of transformation. But with a teeny-tiny budget to work with, they With almost zero budget they decided to tackle the renovations themselves!
What we faced
People say that you don't miss something until it's gone...and that became very true about windows. At the time that we bought the house our bedroom had NONE of them. It received some light from the neighboring office room and through the hallway door, but aside from that it was a gloomy room with hot pink walls.
Our Plan
Our main goal was clear: We needed windows. But we also needed to address the lack of storage space while keeping our modestly sized room feeling spacious.
What We Did
Windows: As we got the chance to decide about the windows' shape and location, we wanted to have fun with it. We found these two windows at a salvage yard and thought they'd look pretty if we located them symmetrically above our bed. They're not large, but it's a bedroom and we don't need that much light in there. We like the dim, even light they provide through the room.
Color Palette: We kept the walls white, as we did in the rest of the house. We added a focal point with the turquoise headboard — a salvaged door — and incorporated light blue and green through accessories. As our bed takes up most of the space in the room, we chose light bedding to help bounce the light.
Storage: Despite the size of the room we managed to get a more than decent amount of storage space. We added two French provincial wardrobes: the one opposite our bed got painted white to blend with the wall, and the other one got mirrors on its doors, which helps with the illusion of more light and space. We included a chest of drawers on one side and squeezed another in a corner, serving as a nightstand, too. Then we added a final layer of wooden storage boxes for smaller items, fabrics and DIY supplies.