Before & After: Reviving a Rental Patio on a Limited Budget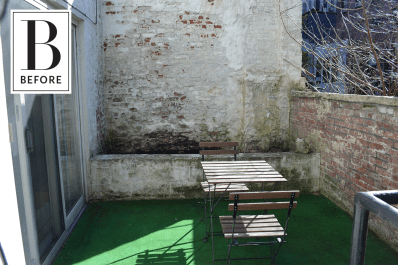 (Image credit: Submitted by Jennifer)
Jennifer knew not to take her Brooklyn patio for granted, since outside space in New York is a beautiful rarity, and set out to make the most of it. She kept things budget friendly while warming up the space, creating a casual space perfect for outdoor cocktails.
(Image credit: Submitted by Jennifer)
From Jennifer: In 2009, I moved from a soulless shoebox on the UES into my (now) husband's apartment in Brooklyn. One of the perks of the apartment was the ever-elusive (though tiny) outdoor patio area. The state of the outside wasn't great—picture a pile of rotting leaves on worn astroturf and there you have it. The following spring, I set about sprucing up the area so that we could enjoy it in good weather.
What an opportunity to have an outdoor space in an urban area! My dream was to get the area in good enough shape that we could invite neighbors and friends down for summer cocktails. Secondarily, I welcomed the opportunity to get some flowering plants in the garden area for added color.
(Image credit: Submitted by Jennifer)
Since we rent, neither of us wanted to sink tons of money into the effort. IKEA was a crucial source of materials: the patio table and chairs set us back only $80, assorted pillows and side tables another $50. The bulk of expense was the RUNNEN deck tiles which, since the area is so small, didn't cost much more than $250.
Landscaping consulting was offered by our dear upstairs neighbor Michael, who donated much advice and many plants and flowers to the effort.
The only setbacks were sporadic changes to the large brick wall (had to get repointed twice) and it's taken a bit for the plants to get to a healthy place (the hydrangeas are challenged to flower this year), but overall the entire process took minimal effort.
(Image credit: Submitted by Jennifer)
I love that it's a cozy little area that feels like a whole other room. We really do enjoy it right up until it's just too cold to go outside. My one bugaboo is the strange drop off to the right of the patio. I'm trying to grow out decorative grasses in planters around it so that they obscure that area.
My favorite "plus": I'm able to compost and keep the can out of the way of the rest of the patio area.
If I had to do anything else, I would get an artisan to create a wooden bench on the cinderblock wall so that it could be a proper seating area for guests.
Jennifer's words of wisdom: Look at Instagram and Pinterest for ideas, then use your imagination. IKEA and Target are great resources. You really can make a nice oasis for just a little money.
Resource list:
Tiles: IKEA RUNNEN
Cafe table & chairs: IKEA TARNO
Outdoor pillows (on cinder block wall): HomeGoods
Large red planters: Lowe's
Galvanized planters: CB2
Hydrangeas, blue seagrass: Home Depot
Thank you, Jennifer!