Before and After: This Busy Mom Took Her Time Reorganizing Her Pantry — and Spent Less than $100
We
independently
select these products—if you buy from one of our links, we may earn a commission. All prices were accurate at the time of publishing.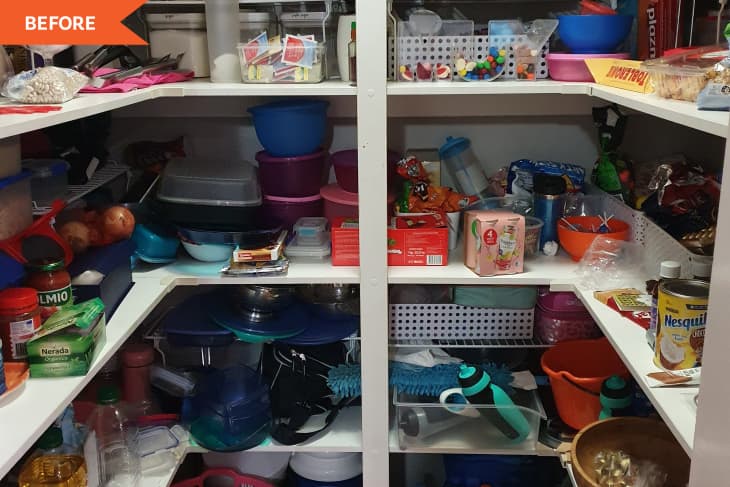 Pantry organization is both crucial and challenging. When it comes to functionality, it's one of the first places that needs attention because it alone can mean the difference between a smooth-sailing meal prep session and one that begins with a frantic search for the wild rice and ends with a harried trip to the grocery store.
It's also far too easy to fall into the beautification-not-organization trap when it comes to tidying up the pantry. Paying attention merely to the look of things can distract from making your pantry do its job, which is to make all your dry goods and non perishables visible and accessible. Keeping the focus on usability means you'll end up with a pantry that serves you, first and foremost, but that doesn't mean it won't look great.
This is the case with Alex Talijan's (@home.style_home) pantry makeover. Fed up with the absolute mess in her space, she decided to take matters into her own hands and create a space that worked as it was supposed to. "The before was a nightmare," she says. "My kids would just throw everything everywhere and there was just no organization in the pantry. It literally took us ages to find something if we were looking for it. Every time someone was looking for something they would ask me."
The last straw for Alex was when her family members began calling her for help even when she was out! (Raise your hand if you've been there.) "I got sick of getting asked where things were and no one putting back things where they belonged," says Alex on her decision to finally tackle the pantry. "I decided it was time to sort it out once and for all so that everyone knew exactly where everything belonged."
Alex organized her pantry methodically and took her time. The project took a whole week, from emptying out the pantry to going through each item and tossing anything that was expired.
She then took stock of the containers and organizers she had on hand to see what she already had that she could use: "I like to do things on a budget and so I made sure I could use what I had," she shares. "The divider shelves are what I already had so I used them. I also had a few white boxes which I used and then went and got a few more so they matched." She estimates she spent under $100 on the entire project.
Alex is happy to report that she achieved exactly what she set out to do: "I love that it is organized and the kids and husband now know where everything is." She is proud that she did the entire project herself and that it has stayed organized since she overhauled it!
Now she has her sights set on future improvements. "I would probably look at adding more shelf dividers for extra room and maybe buy more containers for other items that are boxed," she says.
Alex has some helpful, real-world advice for anyone who wants to undertake their own pantry organizing project: "If you put your mind to it, you can do it. You don't need to do it in a day but slowly and you will get there."
This piece is part of Go Slow Month, where we're celebrating taking your time, taking a deep breath, and taking a step back from it all. From deliberate design ideas to tips for truly embracing rest, head over here to see it all.