Before and After: 4 Stunning Furniture Redos to Inspire Your Next Thrifting Trip
We
independently
select these products—if you buy from one of our links, we may earn a commission. All prices were accurate at the time of publishing.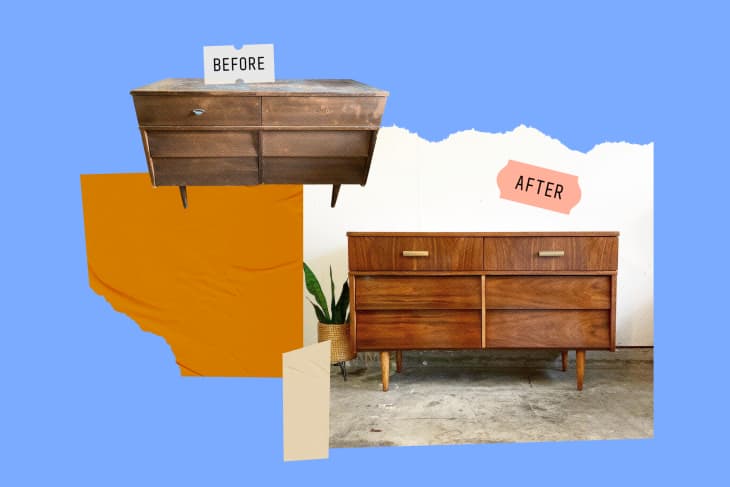 It can be tough to look at a busted dresser or a beat-up desk and see the potential. But some intrepid DIYers make it their mission to seek out pieces that need a little TLC so that they can give them a grand revival. Thanks to Instagram and Twitter, it's easier than ever to find and follow these DIYers — and it's possible to not only hear how these creatives pick and choose a furnishing, but also how they go about the art of the overhaul.
Here, we chose four of our favorite thrifted furniture flips shared recently by some of the best DIYers in the game — everything from a seating arrangement that got a lift from bold fabric to a dresser that was restored to its former glory. All of these examples range in expertise, so it's possible to be a beginner or a more experienced flipper and still get some ideas. Read on for inspo, then hit up your favorite local thrift store to take on a project of your own.
Bold, Bright Fabrics Give These Dining Chairs New Life
Aarica Nichole has amassed a following with her bold sartorial choices, her enviable home, and her bright-and-cheery furniture flips. The upcycling she did for her dining chair cushions is a relatively easy entryway point for those who are new to the game. It starts with removing the cushion from the chair, and then pulling off the staples adhering the fabric and cushion together. Pick out a new fabric — Aarica went for a psychedelic one that matches her chairs' mid-century build — and cut it to fit the cushion. Use a staple gun to make the fabric taut, and reapply it to the chair. In one afternoon, you'll have a new seating arrangement. 
A Stylish Nightstand Gets a DIY to Rival Its Much Pricier Alternative
Tina Clericuzio, who goes by @FlipDaddie on TikTok, reimagines old, tired, and budget-friendly furniture into the type of pieces that would seemingly sell for lots of cash at big-name stores. Take this Anthropologie-style nightstand DIY, for instance. Tina scored two nightstands for free on Facebook Marketplace, and then started the overhaul by filling in the doors' carvings with wood filler (apologies to those who disagree with that choice). She sanded down the whole piece, removed the drawer, primed the surface, and painted it all blue. Later, she spray painted the hardware gold, removed the lower framing, added the handles and the legs, and then gave the paint a protective seal. With a little imagination and time, she likely saved herself hundreds of dollars. 
A Dresser Is Saved With Patience and a Few Hard-Working Tools
Following Lydia of Recycled and Restored on Instagram and TikTok should give you hope that not all scuffed, stained, and scribbled on furniture pieces are lost. She takes her time bringing old tables, chairs, desks, and dressers back to life using a handful of products — most notably, a sander, stain, and sealant — and usually doesn't paint the wood when she's getting toward the end of the project. Instead, as was the case with restoring this dresser, she lets the natural grain be the star of the show. 
A Secretary's Desk Gets Upcycled into a Pretty Spot to WFH
Josie Davis shares ways to thrift your way to a stylish home on her TikTok — she lives in a 1930s home she's currently fixing up — and this project of repurposing a desk can be one way to rethink a WFH situation. She sourced an old secretary's desk, and then sanded, primed, and painted it in "Twilight Zone" by Benjamin Moore. She also upgraded the hardware and added accessories, giving this desk the second chance it needed. 
This post is part of our Thrifting Package, a celebration of all things secondhand. Head over here to read more about everything from how to restore a thrifted item to the best thrift shops in the U.S.