Before and After: This Disorganized Pantry Is Whipped into Shape in 3 Hours (and for Free!)
We independently select these products—if you buy from one of our links, we may earn a commission. All prices were accurate at the time of publishing.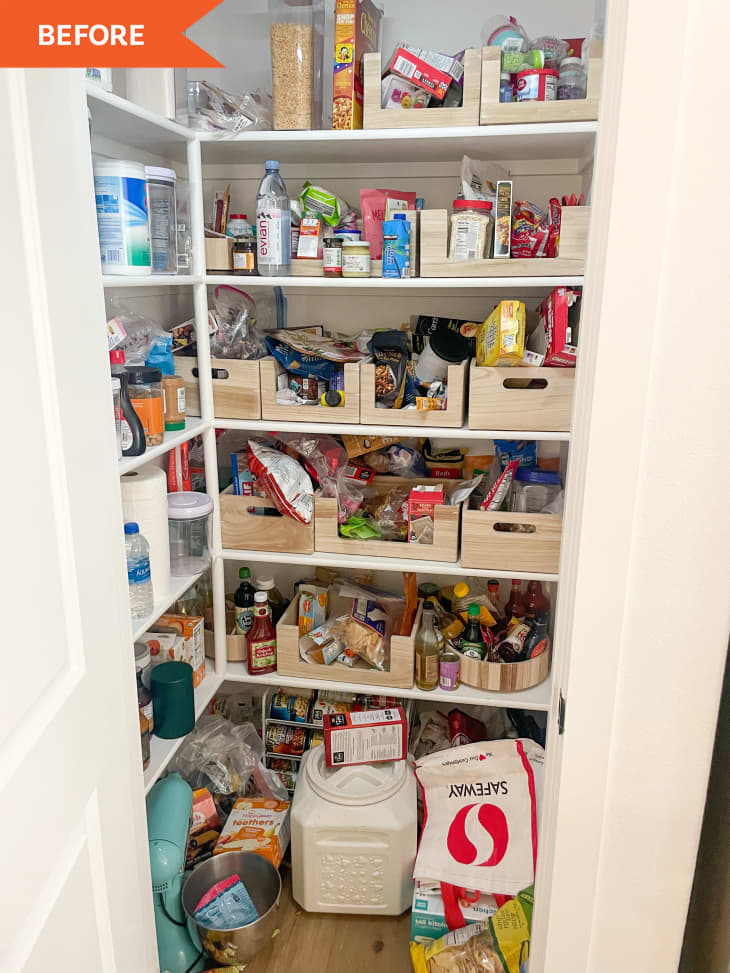 Sometimes people put off an organizing project because they think it's a much bigger project than it actually is. This can be especially true when it comes to pantry organization, where overhauling the whole space can lead to figuring out what containers to purchase, measuring everything, and running around shopping for items. It's enough to make anyone put it off! 
Follow Topics for more like this
Follow for more stories like this
But, it doesn't always have to end up this way. Sometimes, all it takes for a high-impct transformation is some reorganization and decluttering. 
In fact, you can completely transform a disaster of a space with zero new products — and in less time than you might imagine. Nicole Bolf (@abolfabode) beautifully proves this point in the pantry makeover she completed without spending a cent and in just three hours.
As the back-to-school season approached, Nicole realized that she had to make a change. "The school year is starting soon and we need the pantry to be more accessible for everyone," she says. "We found ourselves spending more time looking for snacks than enjoying them. We also wanted to ensure certain items were placed strategically where our kids could (or could not) reach them." 
Although Nicole felt like she had everything she needed in her pantry, including containers, no organizational system was in place and the space was in chaos. "The foundation was there, but the pantry had no organization," she explains. "Everything was just thrown into bins with no system in place." Nicole's goal for the project was straightforward: "Declutter the space and make it easier to locate specific items." 
Here's how she made it happen: 
First, Nicole, with the help of her mother, pulled everything out of the pantry. At this point, they decided what would be kept and what would be donated or tossed. With the pantry empty, they wiped down all the shelves and boxes so that everything "felt new."
Next, they categorized the remaining items. While this part was easy, "figuring out the best use of the bins and the grouping of different categories within the same bin got tricky," she says.
While having three young children involved in the process slowed it down, Nicole points out that allowing them to help paid off in the end because they've been motivated to keep it clean ever since.
Doing this has not only transformed this frequently used space in the kitchen, but Nicole and her family's experience of it. "I love how clean and decluttered it is," she says. "We access this space quite a bit as a family of five. During those flustered moments when everyone is hungry and crabby, it's nice to have a moment of peace opening the pantry door and seeing this organized space." 
When it comes to organizing your own pantry, Nicole offers a bit of helpful advice: "You have to organize your pantry in a way that works for your family. One system that works for your neighbor or friends may not work for you. We know the foods we frequently access and the ones we don't. We organized the pantry according to our family's specific needs." 
This piece is part of Transformation Month, where we're showing off amazing home makeovers, brilliant tiny tweaks, inspiring before & afters, and so much more. Head on over here to see it all!