The 10 Best Apps for Mental Health in 2022, Recommended by Therapists
We independently select these products—if you buy from one of our links, we may earn a commission. All prices were accurate at the time of publishing.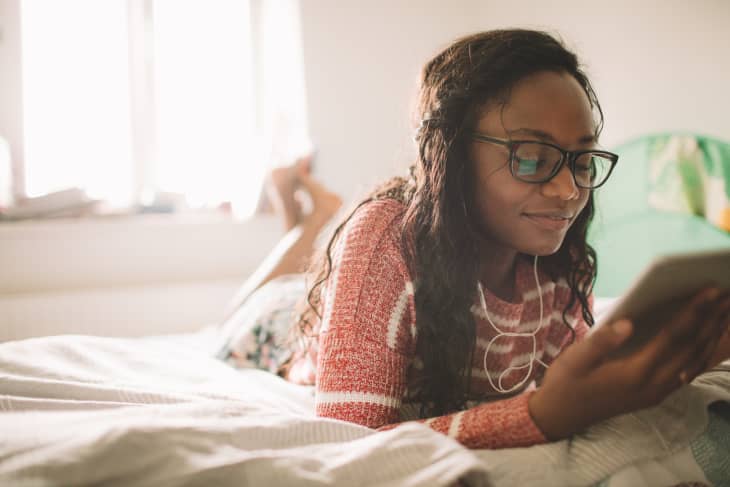 As nice as it would be to check in with your therapist on the regular outside of scheduled appointments, a big part of therapy is learning to cope on your own when you're struggling. That's why your therapist may recommend helpful resources, like books, podcasts, and TED Talks to help you keep up the growth. Apps are another convenient and common method of self-care — you just grab your phone and start a guided reflection.
Follow Topics for more like this
Follow for more stories like this
Some apps, like the ones focused on meditation and mindfulness, have a more direct mental health benefit. Other apps — from audiobooks to journaling exercises — offer practical ways to unwind, distress, and process your emotions. If you're hoping for new ways to take care of yourself in 2022, here are 10 apps that can help, as recommended by therapists. 
Michelle Navarro Ishiki, clinical director and lead therapist at The Ohana Addiction Treatment Center in Hawaii, says she commonly recommends Calm, a meditation app, for clients struggling with stress and anxiety. Whether you tune in to a relaxing meditation during the day or a sleep story before bed, the goal is to gain skills you can apply during stressful situations. No matter what you use the app for,  the key is consistency. "That way, you will have these skills ready to use during real-life situations when you become anxious or overwhelmed," Ishiki says. 
New Orleans-based therapist Michele Nelson says Insight Timer, another mindfulness-focused app, is a favorite for its wide selection of meditations, workshops, and music to help people with everyday issues like stress, anxiety, sleep, and parenting. If you want to take more time for self-care, Nelson says the app also offers free, live events each day, including meditation, yoga classes, music, or lectures on mindfulness-related topics. 
One more therapist-beloved meditation app is Headspace, which offers guided video meditations on an assortment of relevant topics, such as preparing for childbirth, coping with cancer, and mindful eating. "The biggest reason it's a top app recommendation for me is that it's  adaptable to whatever amount of time you have," says Illinois- and Wisconsin-based therapist Shannon Garcia. Whether you have three minutes or fifteen, you can choose a meditation that works for you."
Jackie Tassiello, an art therapist in New Jersey, says her clients commonly ask for book suggestions, and she always recommends an app called Hoopla to check them out. The app links to your local library card, so you can e-borrow for free to read or listen to an audiobook (whether you choose a mental health-related book or unwind with a novel is up to you). Plus, you're supporting your local library. A win-win!
For clients who experience anxiety, panic, or are easily overwhelmed, Tassiello often recommends Virtual Hope Box, which provides simple, immediate interventions for tough moments. "You might choose a word puzzle as a distraction, a guided meditation for relaxation, or select one of the coping cards you made yourself to help you through a difficult moment," she says. 
Yoga is a great way to create a stronger mind-body connection and release pent-up tension and stress. If you haven't already, Tassiello recommends checking out Yoga With Adriene, a YouTube channel with tons of free yoga videos. "[Adriene] is easy to follow, clear, and her videos aren't too long," says Tassiello. "I tell my clients that they don't have to feel pressure to watch a whole video; it's there for what they need it to be, which is often to take a moment to reconnect with their breath."
A book can be a great relaxation tool, but it's not always easy to find time to crack one open. That's why Kelley Stevens, a therapist in Santa Barbara, California, frequently encourages her clients to listen to books on Audible when they're doing chores, exercising, or whenever they're at home feeling lonely. "There are times when you can't bring yourself to pick up the phone, or hop on another Zoom, but listening to a book while doing your daily tasks can take your mind off of a repetitive cycle of negative thoughts and help you to feel less alone," she says.
Stress leaving you flustered? Try downloading Tile, an app that helps you keep track of your phone, wallet, or whatever else you commonly lose. You'll need to purchase physical Tiles to use the app, but Washington D.C. therapist Rebecca Tolbert says for neurodivergent folks, it's a worthwhile purchase. "These are especially life changing for people with ADHD and other executive functioning issues and can give them back hours in a week," she says.
Kayti McDaniel, a California-based online therapist, is a big fan of Daylio, a simple phone-based tool for tracking the impact of your daily habits on your mood over time. An entry in this password-protected digital journal can be as simple as noting your current mood (chosen from a fun, colorful five-point scale) and the activities you did that day (chosen from a customizable list). "By logging your observations regularly, you can start to see patterns over time that can ultimately help you clarify and commit to habits that help you feel your best," says McDaniel. As a bonus, by tracking practices that work for you, you are essentially creating a personalized self-care menu that you can discreetly take wherever you go. 
When your to-do list is stressing you out, writing out your list on paper — or in a digital journal — can help reduce your mental load and remind you of tasks that need to be completed. Los Angeles-based therapist Kailey Hockridge suggests a time-management app called TimeBloc. "It's also nice to sometimes be able to see what we need to do, rather than to think about it, because it's possible that once it's all laid out in front of you, it may feel more manageable," she says.